Jim Hogg's FDC Page for Hogg Cachets
My Favorite Web Sites
Jim Hogg's Freemasonry Webpage
American First Day Cover Society Homepage

---
THE HOGG CACHET
If you click on "visit this author's gallery," the little blue square just to the right of the "Catalog of Hogg Cachets" caption immediately under the photos above, you can get a larger size slideshow with picture captions. It will open my gallery in a new tab. Just click on the Hogg Cachets Album, wait for it to load, and off you go!!
This is a complete photo catalog of all Hogg Cacheted First Day Covers produced for US Stamps by James Hogg. If you have any questions, or need to acquire some of these covers, please contact me. Unfortunately, many of these illustrated covers are no longer available. This photo showcase is primarily here to aid first day cover collectors in identifying Hogg Cacheted FDCs for their collections.
A Microsoft Word document containing images of ALL Hogg Cachets ever produced has been burned to a CD-R disk and submitted to the American First Day Cover Society for their archives. Contact Allison Cusick - he can help you. (The document is over 50 pages long.) It also contains interesting cover variations, stuffer cards used, and unusual UO cancellations I have obtained on FDCs over the years. If you are a serious Philatelic researcher, you may contact the AFDCS Archives. I am sure Allison Cusick would be happy to help you. I have placed a link to their website on this page above for you to use.
If you wish to contact me, you can email boss-hogg @ netzero.net or write me at PO Box 60112, Fort Myers, Florida 33906-6112 USA.
---
HISTORICAL INFORMATION ON THE HOGG CACHET IS DOCUMENTED HERE
I have posted archival information concerning Hogg Cachets on this website. This is a work in progress and can be found by clicking here. (Updated June 20, 2009.) This work is not as complete as the work I did for the AFDCS Archives because it omits many images of cachets with UO Cancels. It also does not include images of every cachet I have made to date because those images can be found in my photo gallery at the top of this page. There is no sense in duplicating those images and using up valuable disk space on this website!
Hogg Cachets were produced commencing with the 18 cent Statue of Liberty Airmail stamp issued in Hempstead, New York on January 11, 1974. If you scroll down, I have included large photos of the first six Hogg Cachets on this page below. They are HUGE images - I will have to fix that later.
---
COVERS FOR SALE PAGE
Click HERE for images and availability of some of the covers I have. (Updated May 6, 2009.) In many instances, I possibly may have some Hogg Cachets that I did from prior years. You must inquire individually for availability.
---
NEW COVERS PRODUCED IN 2008 (All available for sale - see Covers for sale page)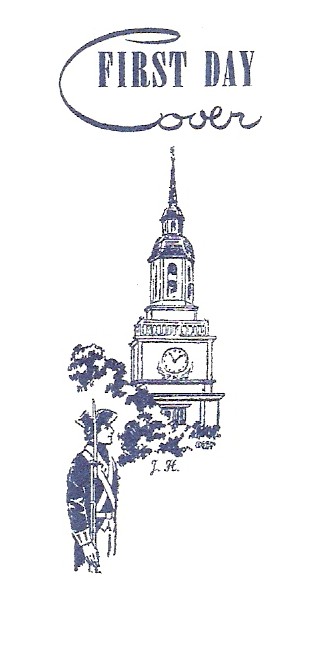 This above is a cropped image of the new general purpose cachet for first day covers that I have produced. It is printed on Artcraft bond paper and is available unserviced @ $1.00 each or 6 for $5.00 + self adressed stamped envelope. Date cachet printed: Sep. 25, 2008.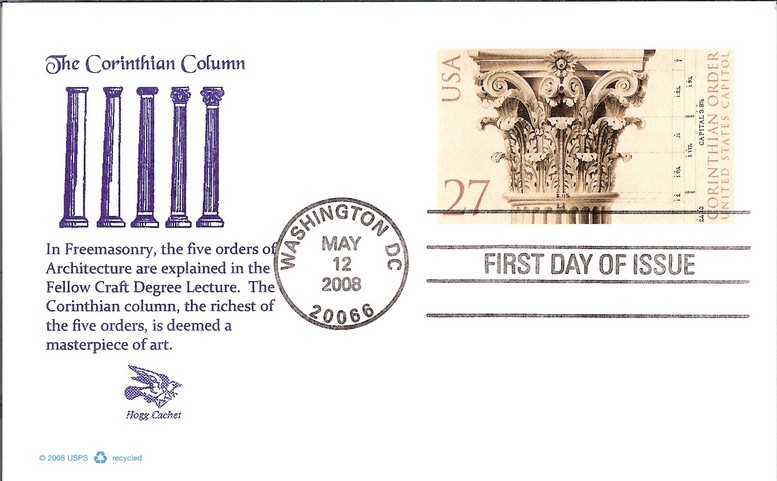 This above Masonic theme Cachet for the Corinthian Column Postal Card promises to be a rarity because I only produced 30 of them. I still have some available.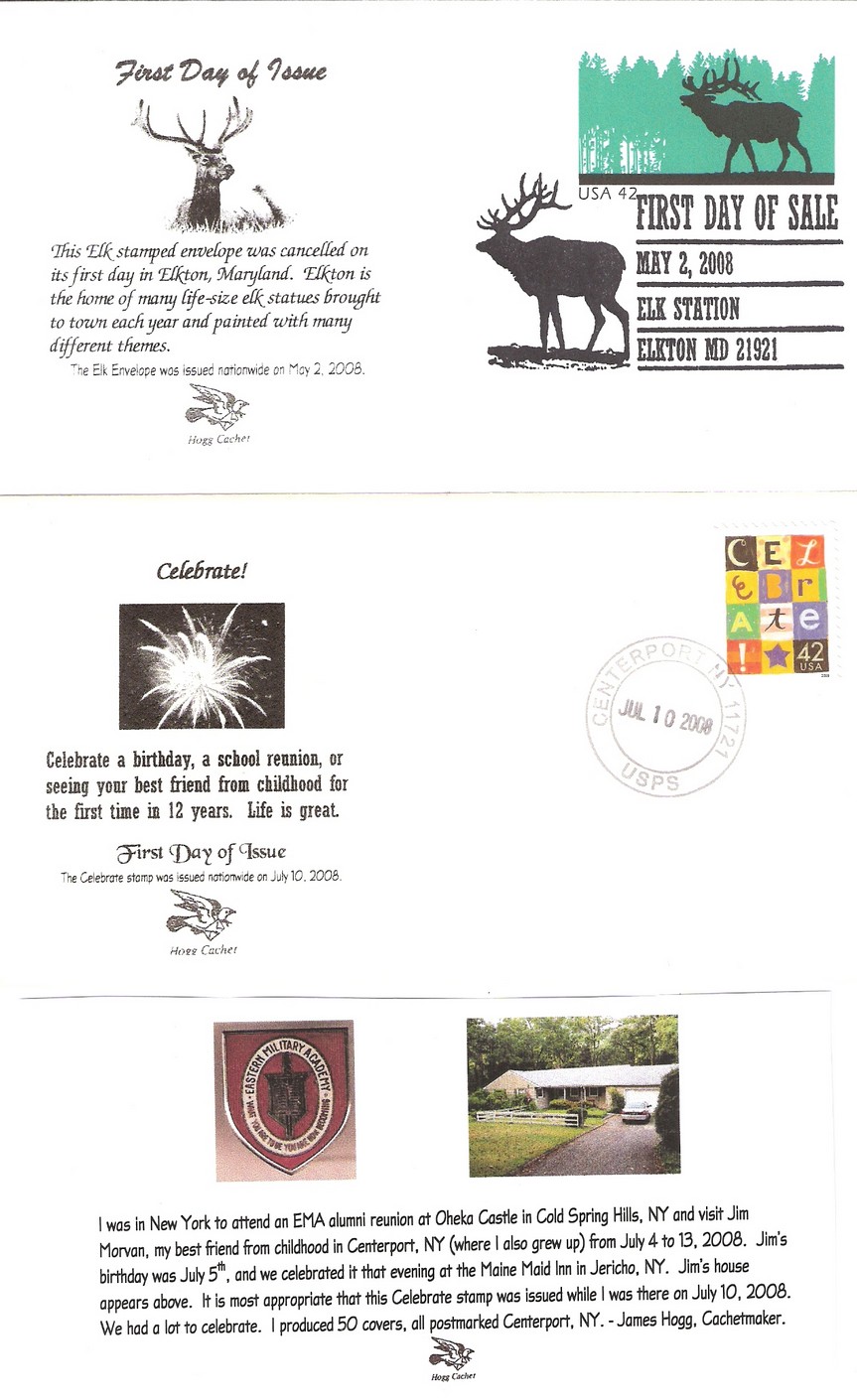 ILLUSTRATED ABOVE
A cachet has been produced for the Celebrate! stamp (issued July 10, 2008 Nationwide). They ALL were cancelled on the First Day in Centerport, New York and have a special insert explaining why this is so. Fifty were produced. Another cachet has been produced for the Elk envelope (issued Nationwide on May 2, 2008). The cachet was specifically designed for the special cancel used at Elkton, Maryland. These covers exist only in the 6-3/4 size regular envelope and only with the special Elkton first day of sale cancellation. Fifty-three were produced. Chris Lazaroff, the President of the AFDCS this year, serviced these Elk envelope covers for me. He also was directly responsible for arranging for that special cancellation used that day for these envelopes in Elkton, Maryland.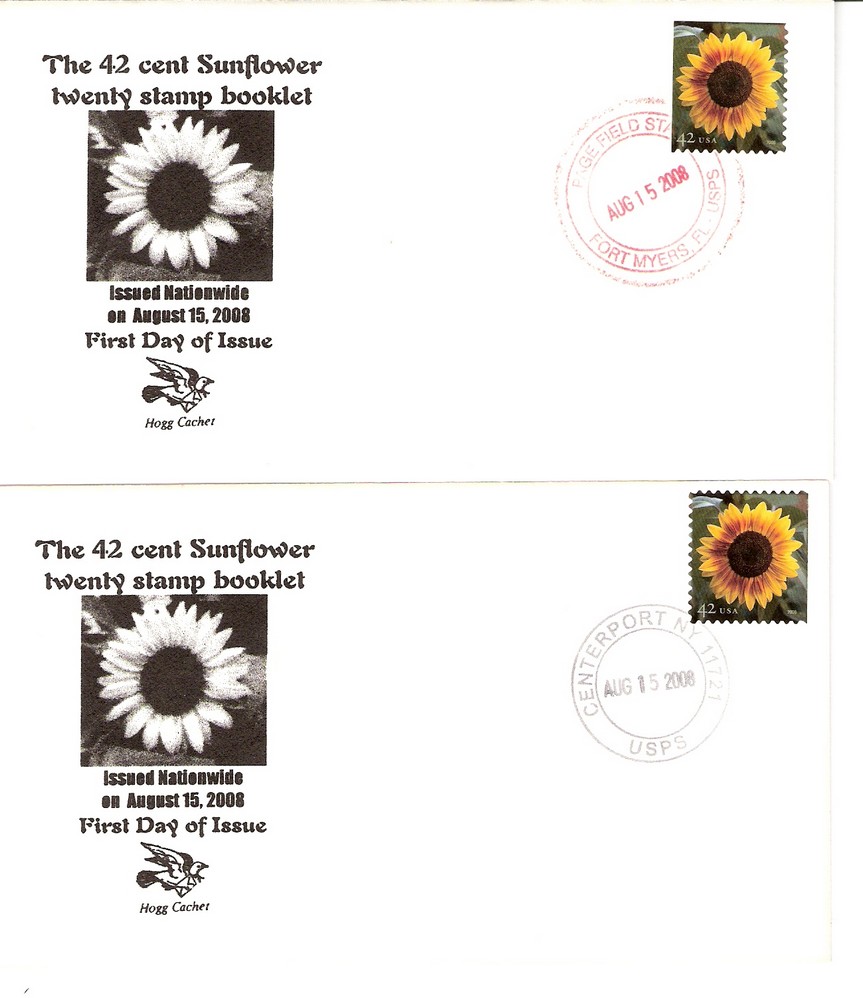 I produced fifty FDCs for the New Sunflower Stamp. There were 20 cancelled at Centerport, NY and 30 cancelled at Page Field Station in Fort Myers, Fla. Reason: Centerport was my hometown where I grew up and Page Field, Fort Myers, Fla. is where I have had my PO Box since 1979, when I moved to the Fort Myers area. Unfortunately, the cancel at Page Field was badly worn and it was tough getting sharp impressions on my covers.
Updated August 26, 2008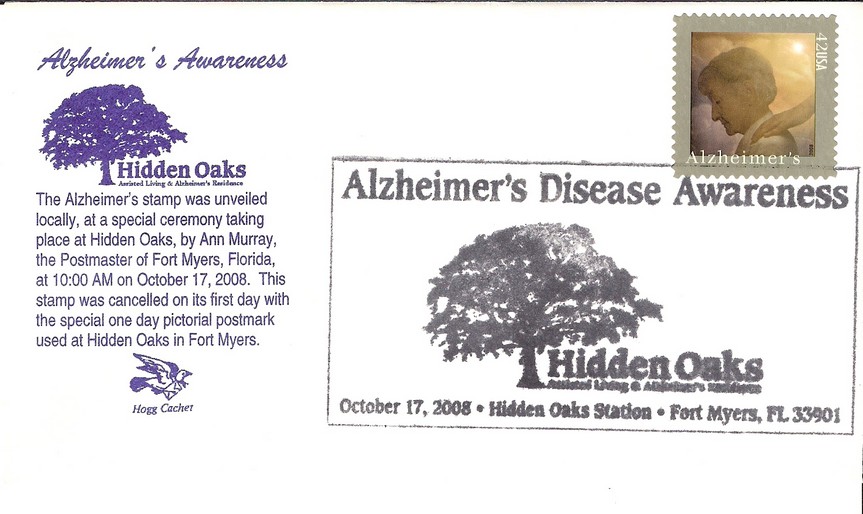 This Alzheimer's Awareness cover was produced in a quantity of 50 with this special pictorial cancel available for one day in Fort Myers, Florida. This cachet only exists with this particular cancellation. Updated October 30, 2008.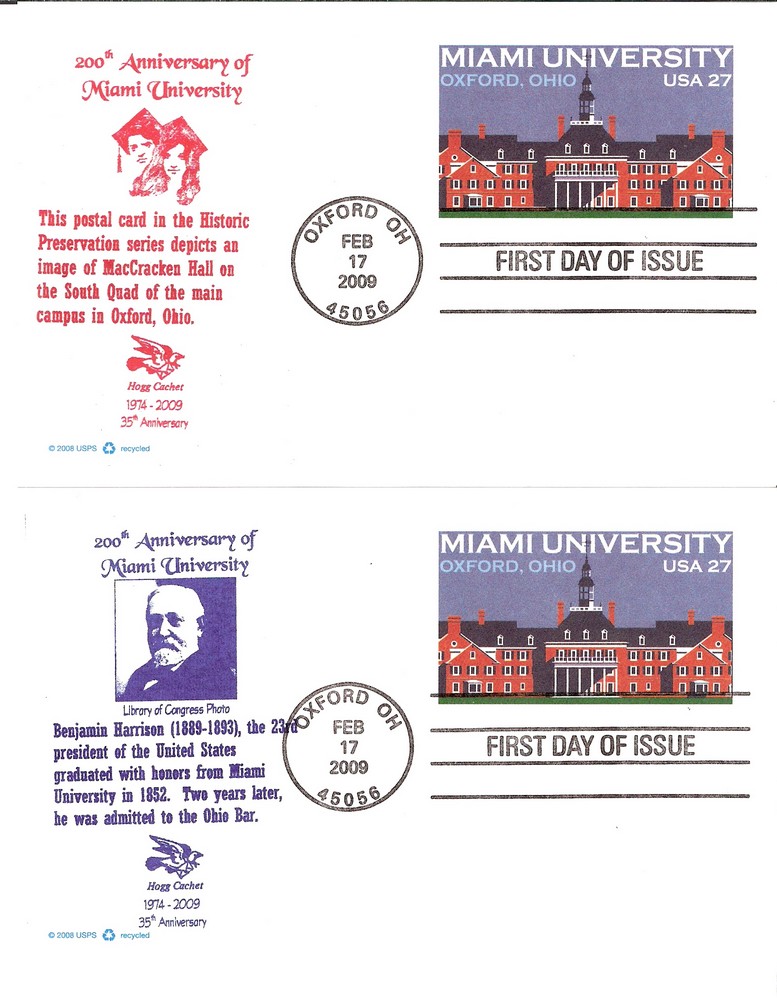 I did 25 of each Miami University Postal Card design. None exist without the FDOI cancel pictured above because they were unavailable anywhere I tried on the first day. I had availability checked in Florida, Texas, New York, and Hawaii, with no one able to buy any. Updated March 6, 2009.>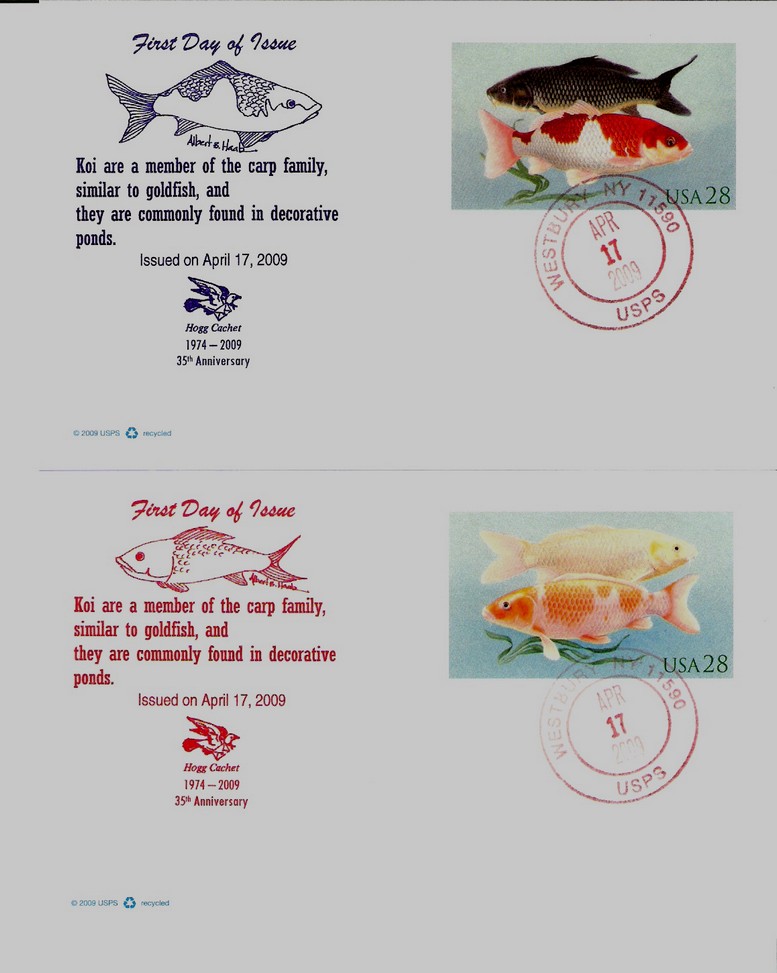 I did 87 sets of these with a variety of cancels. See Cachet History page for details. It is also available - see cachets for sale page. (Updated May 6, 2009).
Please come back and visit again!