The Hogg Cachet. An Illustrated History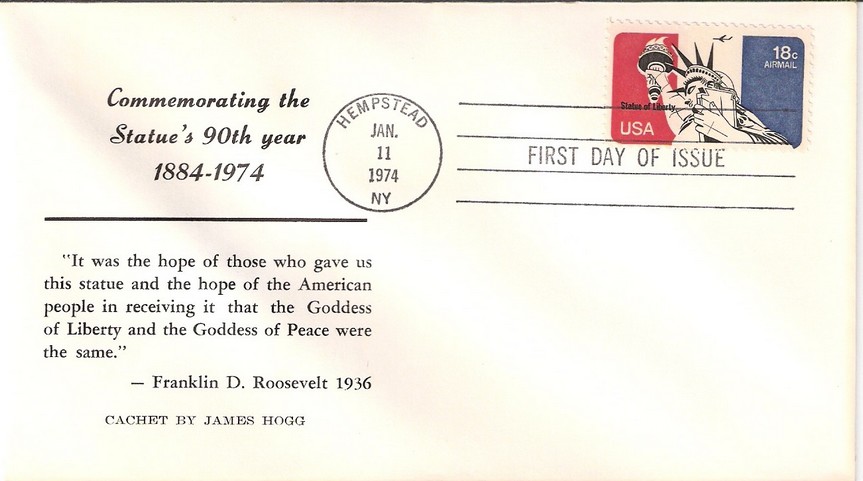 Hogg Cachets were produced
Beginning with the 18 Cent Statue of Liberty Airmail of Jan. 11, 1974 (Illustrated above)
In limited quantities of usually from 50 to 100
Occasionally with cachets specially designed for UO cities.
IMPORTANT NOTE:
CLICK HERE TO GO TO: Hogg Cachet Main Page. Here, you will find at the top the PHOTO GALLERY of ALL Hogg Cachets produced to date.

by James W. Hogg
The Hogg Cachet was first produced in 1974 beginning with the 18 cent Statue of Liberty Airmail stamp. There were only 100 of these covers produced. Typically, there were only 100 of any Hogg Cachet produced for each issue, making them fairly rare and hard to find covers today. This document was produced to establish an archival record for future researchers of all Hogg Cachets produced, along with some personal reflections and pertinent information about the cachets.
At the time I produced my first cachet, I was a high school student attending St. Paul's School, a private boarding school, in Garden City, New York. I was 18 years old and was living in Centerport, New York then, which was my childhood home where I grew up. There are many Hogg Cachets out there bearing the unofficial first day cancel (referred to as a "UO" throughout this document) from the Centerport, New York post office precisely because of my relationship to that community.
The story as to why I decided to produce my own cachet line is interesting and now follows. In November of 1973, I attended the ASDA National Postage Stamp Show in Madison Square Garden in New York City. At the time, this was a most extraordinary experience for me and I was like a kid in a candy store. This was only my second show ever, my first one being the Interpex show in New York City on March 15, 1969.
While at ASDA in 1973, I happened upon the American First Day Cover Society booth and decided to join because I was most interested in first day covers. Frank Raciti was the one who signed me up and he gave me, among other materials, the November/December, 1973 issue of "First Days." When I returned home, I read this issue from cover to cover. My inspiration to produce Hogg Cachets came directly from Wayne Gasper's article, appearing on P. 16, titled "Floyd Shockley's Cacheted No. 651 First Day Covers." I was so engrossed in the story Wayne told that I decided I simply MUST produce my own cachet. I very much enjoyed the story about how Floyd Shockley and his cohorts obtained UO cancels in other parts of Indiana on that day. Needless to say, I also have a few of Shockley's cachets in my personal collection. So, this is addressed to Wayne Gasper, if you are still alive and read this: The Hogg Cachet is "all your fault!"
I remember when I produced the 18 cent Liberty cover on January 11, 1974. I delivered the order to my small town printer located up the street from me in Greenlawn, New York the week before. It was a cold January day and he promised them for me in time for the first day. The cachet was produced on a letterpress printing press and, unfortunately, I did not think of using a quality envelope stock for this issue. I made the same mistake for the 18 cent Blackwell stamp as well. Beginning with the 10 cent VFW stamp, I began using a rag content envelope. Also unfortunately, the issue of rag and cotton content envelopes has been an ongoing problem with me for years, which I detail later, ad nauseum, in this document.
The Liberty Airmail stamp was issued in Hempstead, New York – the neighboring town to where I was attending high school in Garden City. After classes, my dad picked me up and took me to the Hempstead post office, where I bought the stamps and serviced the covers – all with the hand cancel. No Hogg Cachets were serviced in Hempstead with a machine cancel FDOI postmark for that stamp. On the way home, we stopped in Garden City, Cold Spring Harbor, Huntington, and Centerport where I serviced my first ever UOs on my own first ever cachet. I remember that the weather was very cold and raw that whole weekend and the roads and sidewalks were slippery with snow and ice. This was especially true for my Saturday trip to the Nassau Coliseum in Hempstead, NY for the LISDA Stamp Show. This is where I first met Bob Graebner and many other AFDCSer's who encouraged me to produce more Hogg Cachets.
A few words about my first printer need to be made here. My neighbor across the street recommended I speak to him because she liked the way he dealt with her. I visited his shop, located on Railroad Street in Greenlawn, New York, in a small red colored postage stamp sized garage building (pun intended) right behind the Old Fields Inn on Broadway. It was called the Red Barn Press. He was a very nice older gentleman who had a lovely wife who helped him from time to time. He also had a son who did all the shop's offset printing on presses he had at home in his basement because the shop was too small to accommodate the additional presses. The shop later relocated to larger quarters in East Northport, New York sometime in 1976. The Red Barn Press also had one of those big tall old Morgenthaler linotype machines, with the molten led pot, which was what he used to set the type for the printing of my cachets. All of the equipment he has was in perfect working order and looked like it emanated from another century! He and his son were my printers until 1976 when I was forced to change printers. This will be more fully explained later.
The next First Day I attended was for the Continental Congress block of four stamps on July 4th. I remember taking the train from Long Island into Penn Station in New York City to take the Amtrak train to Philadelphia to service these covers. I started at 5AM on that day and didn't return home until late. Since it was a holiday, there were few UO opportunities. I did, however, get a set cancelled with a "Pray For Peace" MC slogan cancel at the GPO across from Penn Station (Zip Code 10001). I also remember that day being a very hot day. I attended the FD Ceremony in Philadelphia and not only received an official program, but also got the stamp designer to autograph one of my covers for me.
The Tennis envelope issued in Forest Hills, New York was an interesting experience. This took place on a Saturday so I only had a half day to service UOs. My grandmother took a large batch of covers into Manhattan to mail for me so I could get UOs there. Unfortunately, the batches she mailed for me at Church Street Station and Grand Central Station never reached me – probably stolen from the mail stream. This amounted to probably somewhere over fifty lost covers. Also, I was totally unable to get a hand cancel on my covers in Forest Hills. When I asked for it, the postal clerk said that they hadn't made the die yet so it was unavailable. Well, grandmother went back later and got the hand cancels for me – after banging on the Postmaster's door and not leaving until they complied. I was lucky enough to be with John Borges and his crew at this FD when the post office first opened and was able to get the large size envelope and both sizes of window Tennis envelopes from him. These apparently were not available except by special order and John was kind enough to sell me a nice quantity. The Hogg Cacheted regular large envelope does exist with a machine FDOI cancel, but both the large and small window envelopes only exist with UO cancels. Since the window envelope was configured differently, I had to produce a second version of cachet for this variety in the form of a corner card, which was letterpress printed on these covers. Examples of all four Tennis envelope varieties appear below.
In March, 1975, I attended the FD of the Sybil Ludington stamp. I did a cachet printed on red, white, and blue card stock for that issue. That way, I could service them with a single stamp so as not to clutter up the cachet with an unrelated stamp to make up the first class rate. While at the post office, I was lucky enough to pick up a blank souvenir program with no stamps or cancels. I took that program to Patterson, NY, affixed a block of four to the program, and had it cancelled there with the magenta plug. So, I probably have the only official program in existence for that stamp with a UO cancel. In servicing UOs, we had them cancelled across Connecticut, with the final destination being Hartford.
In September, 1975, I serviced covers in Philadelphia for the 200 years of Postal service block of four. I managed to get the NY & Wash RPO cancel on these covers – a hard to get UO. I also got many cancels in both Manhattan and out on Long Island where I lived at the time.
In October, 1975, I attended the FD for the Money & Banking stamps and was able to get a large variety of different UOs in Manhattan and Long Island as well.
1976 was a busy year for cover servicing. In April, the Chemistry stamp was issued and I attended the FD. In addition to the usual array of UOs, I took the stamp to the campus of C. W. Post College, Long Island University, where I was attending school. We not only had a chapter of the American Chemical Society there but also a branch post office on campus as well. I had a number of these covers hand cancelled with the magenta plug cancel. I was delighted that the cancel came out very well. The cancel read "Greenvale, NY Merriweather Campus BR USPO" because C. W. Post College is located on the former Marjorie Merriweather Post estate on the north shore of Long Island. This cover is illustrated here: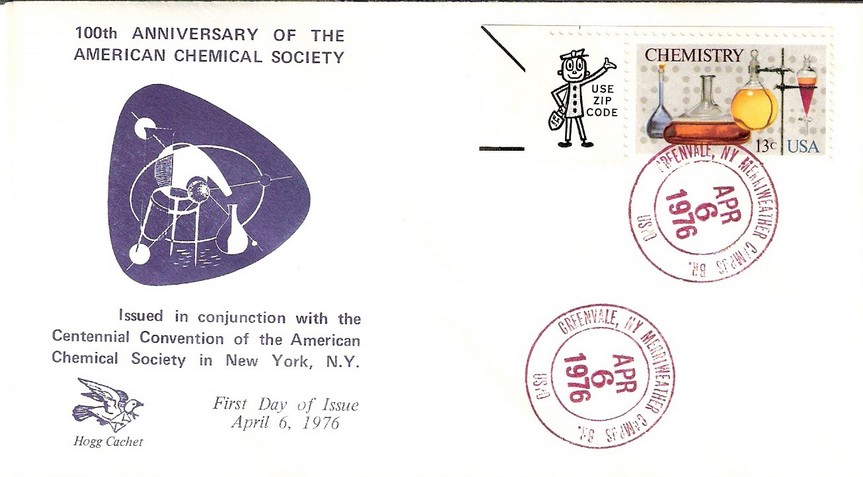 June 1, 1976 was the FD for the 13 cent Franklin stamp in Philadelphia. While servicing covers at the Interphil '76 show, I was lucky enough to find a clerk using a dark magenta colored ink for the Official FDOI Cancel (see example below). I was also able to get a variety of different UOs because we had a large number of AFDCSer's servicing covers there. This issue presented serious cachet production problems for me and I describe these problems later. I also reproduce and explain examples of all four varieties of the cachet I produced for this issue later on below.
I also took a trip into Manhattan to service covers for the Adolph Ochs stamp and obtained the usual variety of UOs on Long Island.
The 2 cent non-profit envelope issued September 2, 1976, was a special memory. I purchased both the small and large size envelopes and serviced UOs the entire day, ending up at the far eastern tip of the north fork of Long Island at Orient, New York. I also serviced a few of these covers with both my mailer's postmarks in Centerport, New York – one of which is illustrated below. These cachets, along with the Caesar Rodney Postal Card and the 13 cent Bicentennial envelope (both sizes) of October, 1976, were all printed by a philatelic printer I became friendly with in New Hampshire. Unfortunately, the quality of his printing work wasn't the greatest.
In November, 1976, I attended the FD of the 7.7 cent coil stamp. Since I spent my time at the ASDA show that day, my only UOs were various New York City cancellations and a Centerport, New York cancellation.
I also attended the FD for the one dollar booklet pane in March, 1977. When everyone else at the show was purchasing the exploded booklet with the top tab intact to service their covers, I decided instead to buy the regular unexploded booklet with the booklet pane glued in with a top perforated tab. That way, I would have some used booklet covers and could glue them to an envelope and have both the booklet cover and stamp tied to a cover with a FD Postmark. And, indeed, I serviced a few of those covers for my collection. Here is an illustration of that cover: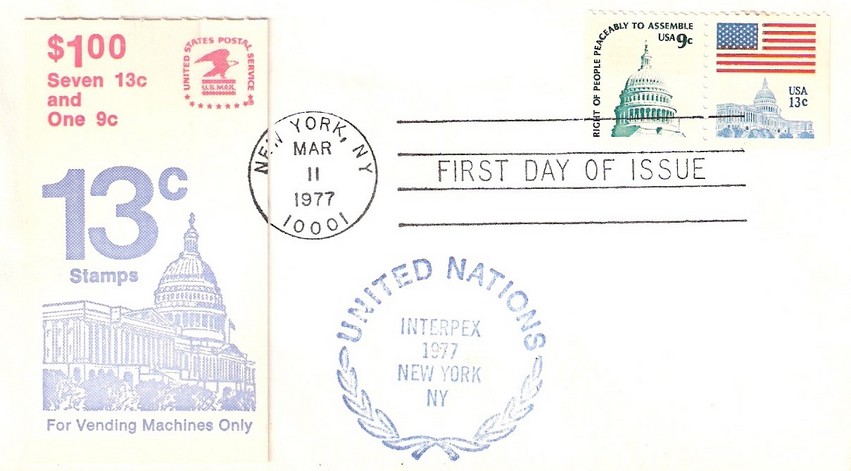 What I didn't realize at the time was that the exploded booklets and the regular unexploded booklets had different perforation varieties. As it turned out, everyone used the exploded booklets to service covers and not the regular booklets. That in turn made my covers desirable because I did not use any exploded booklets – only the "rare" perforation variety unexploded regular booklets - on Hogg Cachets for that issue. Had I not decided to produce a few covers as illustrated above, I would have missed out on this rarity. I was able to obtain a number of interesting UOs for that issue, including the hard to get RPO cancel and a couple of Washington, DC cancels.
I also had the opportunity to attend Ameripex '86 in Rosemont, Illinois. I decided to do a special cachet for the Stamp Collecting postal card that was issued at this show. This time, I decided to do solely philatelic related UOs which tied in perfectly with the stamp collecting theme. I was able to swap with a couple of AFDCSer's at the show for a couple of different cancels I didn't have. I was also fortunate in being the only one servicing covers at the Stamp Post in Waukegan, Illinois.
In February, 1991, the 50 cent US/Swiss stamp was being issued at the same time I was scheduled to be in Washington, DC for a set of Masonic conferences. I couldn't pass up an opportunity to do something different with this stamp. What I did here was produce a cachet specifically designed for a UO cancel, which some other cachetmakers had done in the past. I decided on the US Capitol's House Post Office Branch for my cover. I couldn't think of a better cancel to use than the one available at the post office located within the very building illustrated on the stamp.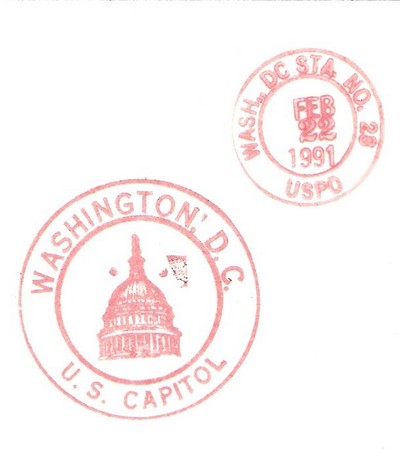 Illustrated here is the postmark and rubber stamp cachet they used.
When I arrived to service my covers, the counter person couldn't be nicer to me. I was even afforded the opportunity to cancel my own covers and also affix the House Post Office rubberstamp to them myself. Unfortunately, the magenta plug cancel wasn't in the greatest of shape, however, I was still able to get reasonably good impressions. These covers only exist with the House Post Office cancel and rubber stamp cachet, as shown here.
There are many trials and tribulations that befall a cachetmaker that many people never learn about. In 1976, I had agreed to do an official cachet for the MFDCS, the New York City chapter of the AFDCS. It was to be for the Franklin stamp to be issued at Interphil '76 in Philadelphia. I have illustrated all four of my cachet designs for this issue below, including this official cachet. This was by far my worst cachetmaker experience. Here's what happened to me.
My regular printer, the Red Barn Press, attempted to print variety #1 via offset press and, after printing a small quantity, decided that he wasn't going to finish the job. He was having trouble lining up the color registration. If you look at the Interphil 76 at the bottom of the cover, you will see that the star over the "i" is colored differently than the "i". Notice that Interphil was in blue, and the star dot over the "i" & the "76" were in red. Here is the cropped image from the cachet of this detail: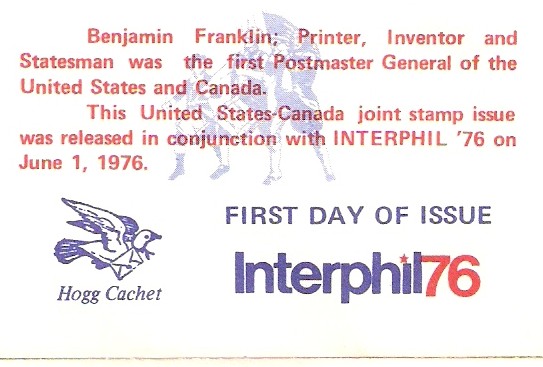 This is variety #1.
Additionally, he informed me that my small runs were too much hassle to produce and that he would no longer agree to be my printer for Hogg Cachets that were to be done on an offset printing press. His dad, however, who did the letterpress work in the shop, agreed to continue to produce letterpress covers for me whenever I desired. This obviously created an immediate problem of my having to secure a new printer for my Franklin cachets. Unfortunately, unknown to me at the time, the replacement printer I selected to do the other three designs did fairly poor work. I changed the designs for the two color cachets slightly by making Interphil 76 all in blue and changing the half tone over the text from the Spirit of '76 trio to a drum (variety #2). For the MFDCS official cachet, I added the appropriate text (variety #3).
In my opinion, these print jobs didn't come out well at all. As a back-up cachet, in case the two color covers could not be produced in time, I did a single color cover variety for this issue. I had no intention of creating four different varieties of cachet for the Franklin stamp. This circumstance arose from unfortunate events beyond my control and, needless to say, this second printer never did any further cachets for me. The cropped images of these results are illustrated here, labeled as Variety # 2 and #3.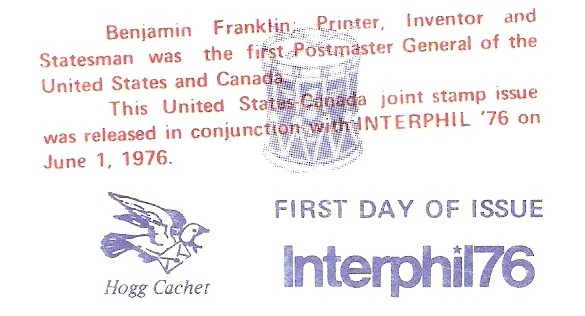 This is variety #2.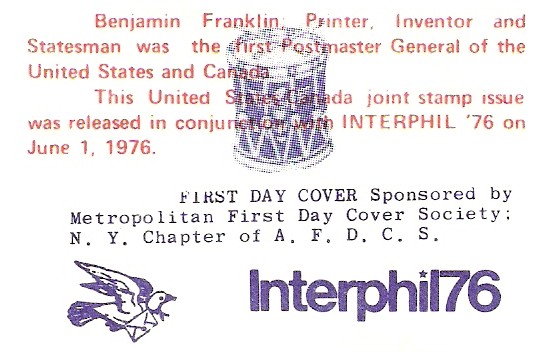 This is variety #3.
In variety #3 for the MFDCS, you will note that the Hogg Cachet logo appears as the bird and envelope cut minus the Hogg Cachet designation. When I was asked to prepare the official cachet for the MFDCS, Michael Burke, the chapter president at the time, instructed me that my name was NOT to appear anywhere on this cachet. I had no problem with this; however, I asked permission to include my bird and envelope cut minus the Hogg Cachet lettering on the cover. He agreed with my request. This is the only cachet that I produced where the bird and envelope logo appears without the Hogg Cachet lettering across the bottom.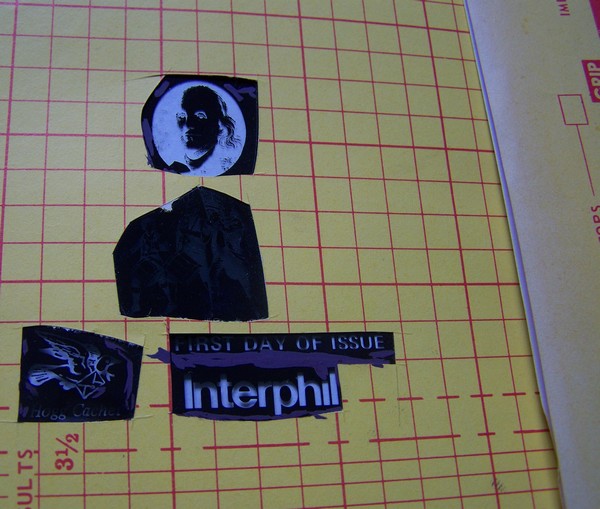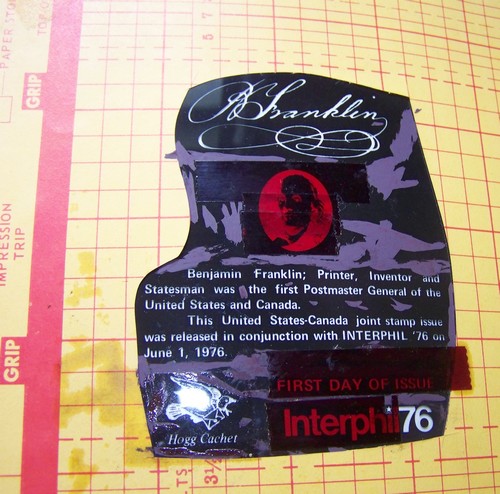 In my materials, I managed to locate the actual templates with the acetate film that was used to make the offset press printing plates for the Franklin Cachet Variety #1. Both of those images appear here. There were two templates because this was supposed to be a two color cachet.
For the next several years, I used various different printers to offset print my cachets until they proved to be unreliable. When I moved to Fort Myers Beach, Florida in 1979, I was lucky to find a husband and wife team who took good care of me for a few years until they retired. He was a former Navy Seabee in WW II, like my dad was, and he and his wife used to attend the Seabee Veterans of America local meetings with my parents. He and she were my printers from around 1979 to 1981. After 1981, I would use various other local printers for my work and was pretty satisfied with their various performances.
Most of my covers were produced with clip art and old printing cuts I found at flea markets. If you study the whole run of Hogg Cachets, you will see various images reappearing multiple times on my covers over the years.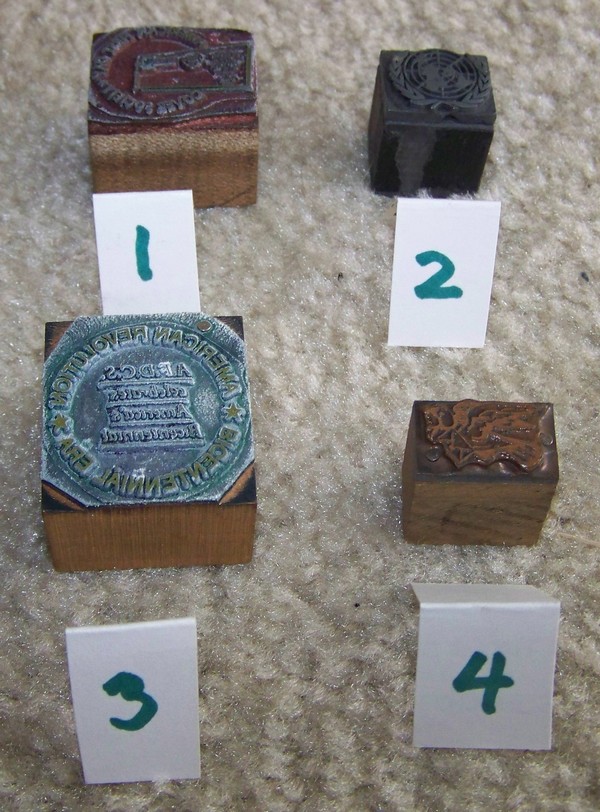 The printing cuts in this photo were used on Hogg Cachets and are explained as follows:
#1 – Large AFDCS Logo appeared for the first time on the 10 cent Horse Racing Stamp Cachet – issued May 4, 1974. It saw use on the following Hogg Cachets: 6.3 cent Bulk Rate Coil (10/1/74), 1.8 cent Non Profit Envelope (8/23/74), 10 cent Lexington & Concord (4/19/75). 10 cent Paul L. Dunbar (5/1/75), 2 cent Non Profit Envelope (9/10/75, and 9 cent Nathan Hale postal card (10/14/77).
#2 – United Nations Logo first appeared on the 10 cent International Womens Year Cachet (8/26/75) and also on the 10 cent World Peace Through Law Cachet (9/29/75).
#3 - Large AFDCS Bi-Centennial logo appeared only on the 13 cent Bi-Centennial Embossed Envelope (10/15/76.)
#4 – The Bird Logo. This antique cut is the basis for the logo that I began to use on my cachets beginning in 1976.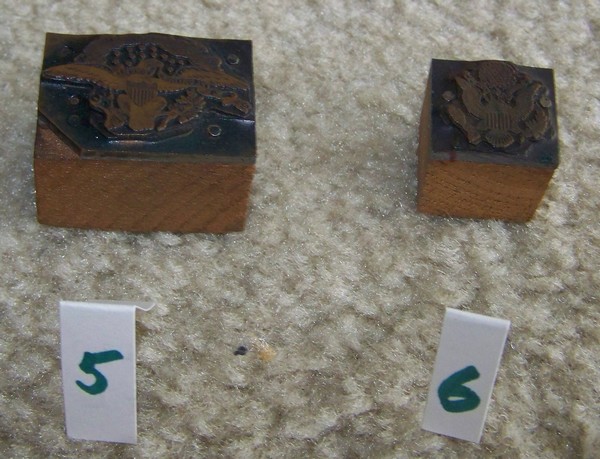 The printing cuts in this photo were also used on Hogg Cachets and are explained as follows:
#5 – Eagle and Shield antique printer's cut. This cut was first used on the 10 cent Harrodsburg, Kentucky Cachet (6/15/74). It was later used on the following Hogg Cachets for these stamp issues: 8 cent Sybil Ludington (3/25/75), 10 cent Salem Poor (3/25/75), 10 cent Battle of Bunker Hill (6/17/75). And 9 cent Caesar Rodney Postal Card (7/1/76).
#6 – Coat of Arms for the USA. This antique cut was used only on the Hogg Cachet produced for the 200th Anniversary of the US Armed Forces block of 4 issued on 7/4/75.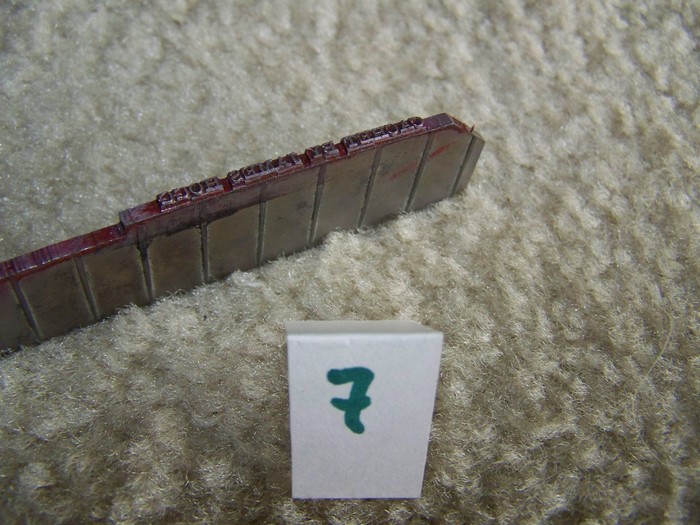 This photograph, labeled #7, shows the zinc linotype cut that was produced by my printer's Morgenthaler linotype typesetting machine. This one reads "CACHET BY JAMES HOGG" and is what was used on many of the Hogg Cachets that were printed on a letterpress printing press.
A few words need to be written about the logo I used on my Hogg Cachets beginning in 1976. As stated earlier, my logo came from the antique printer's cut illustrated above as #4. The reason I selected this as the logo was because it was an image of a bird carrying an envelope. The bird was a symbol of freedom of design and the envelope was a symbol of a first day cover. However, I utilized a cut depicting a hog on my cachet for the D. W. Griffith cachet, in an obvious play on the pronunciation of my last name. (Hogg is pronounced with a long "o" and not as in the animal printed on the cover!)

Illustrated above is a cropped and blown up image of this hog logo appearing on my Griffith cover. That cover is pictured in full in my photo gallery. This was the only time I used that hog cut on a Hogg Cachet.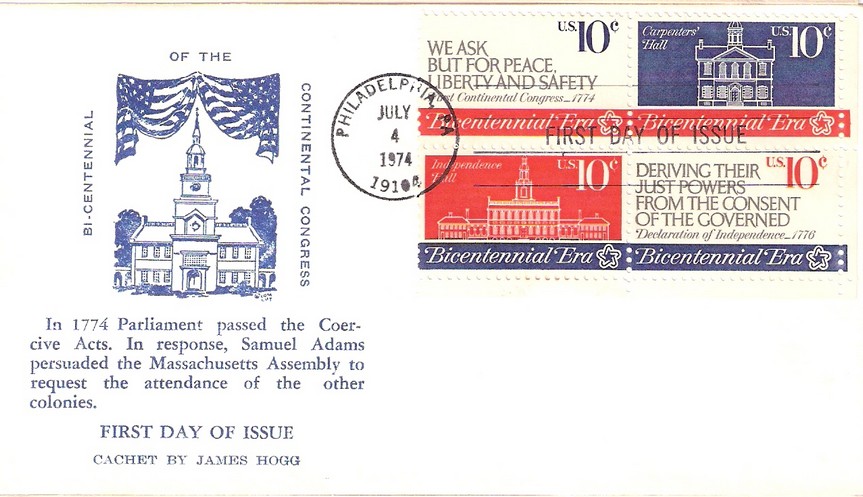 On the cachet I did for the 1974 Continental Congress stamps issued on July 4, illustrated above, I used an antique printing cut that bears the name "Com Cut" in the lower right corner of the image. See below cropped images from that cachet. A Com Cut appeared as the central part of the cachet design in the Fidelity Stamp Company's first cachet, which they produced for the 1937 Constitution Sesquicentennial stamp issue. I have that cover in my personal collection and I reproduce it here just below the cropped cachet images showing my use of a Com Cut. Apparently, Com Cuts were standard printer's cuts readily available and frequently used during that era. I found this to be most interesting!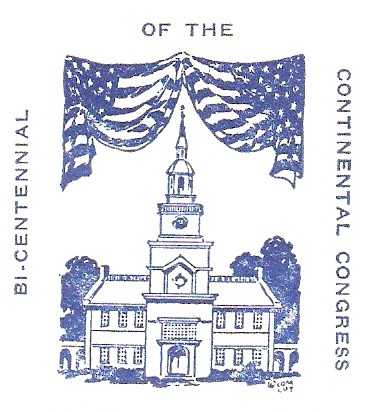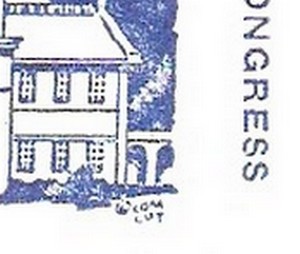 Here is the cropped cachet, accompanied by a cropped blow up of the lower right corner, where you can see image was signed "© COM CUT".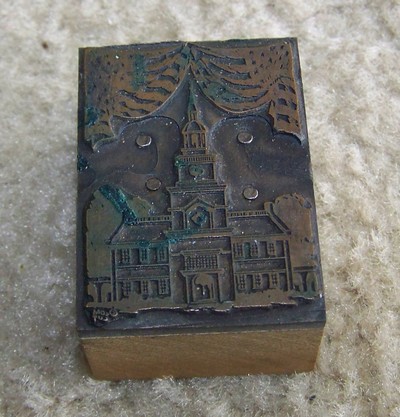 This is a photograph of the actual printer's cut I used on these cachets. You can clearly see the "© COM CUT" designation in the lower left portion of the cut. Amazingly, I still have this antique printer's cut in my possession!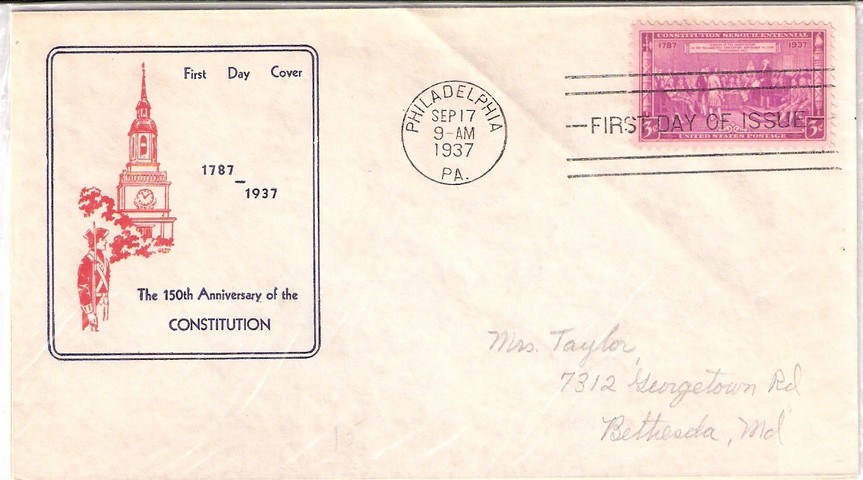 This is Fidelity Stamp Company's first cachet, which they produced for the 1937 Constitution Sesquicentennial stamp issue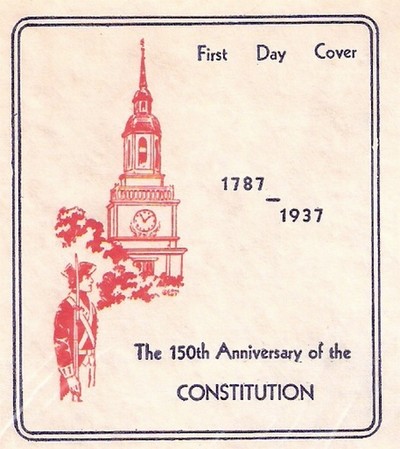 This is a blow up of the cachet design. Note the Com Cut signature at the right hand base of the clock tower.

On a few occasions, I tried to do my own artwork in pen and ink for a few covers I produced, with varying results. I hand drew the artwork images for my cachets for the $1.00, $2.00, and $5.00 definitives issued in 1978 and 1979. These images were then printed onto the covers by the offset printing method. I thought the best drawing I did was the one for the $2.00 cachet. I also did the hand lettering for the learning never ends stamp of 1980 and the $5.00 definitive. It is obvious from that exercise that I am not good at hand lettering!

The Cachet Making Business Model

A few words need to be said here about doing business as a cachetmaker in general. Sometime in the late 1970s, there was a dramatic increase in the number of cachetmakers producing cachets for U. S. stamps. Back when I was first producing these things, there were less than 100 market participants actively doing cachets. It was a profitable business model in 1974 when I started and, unfortunately, many other people discovered this fact. When I first began, I was able to make a nice profit from these activities and I used that profit to support my FDC collecting. Whenever I attended stamp shows, I always brought a full selection of Hogg Cachets and I was always able to sell some out of my briefcase. Also, when the AFDCS held a hospitality suite, I was always able to sell many of my cachets, along with swapping covers with other collectors. In later years, the AFDCS completely prohibited this activity in or around their hospitality suites, terminating an excellent revenue and FDC swapping source. This occurred because of pressure from stamp dealers at the associated stamp show bourses and the discovery of a new source of revenue to the show organizers: the Cachetmakers Bourse, where a fee could be charged to cachetmakers, who were restricted to selling only their own branded cachets at their tables. Often, these cachetmaker bourses were limited to a few hours in the evening on one particular day at the show.

Years later, I ran into Lois Hamilton in Lago Vista, Texas. She is a famous cachetmaker who produced hand painted FDCs. I had known her for years, having seen her last in 1979 at the Florex show in St. Petersburg, Florida. Amazingly, back in the early 2000s, she lived in the apartment immediately above where my Aunt lived and I had the opportunity to visit with her one time for an afternoon when I visited my Aunt. She was the one who told me about the AFDCS policy change I recited above. She also told me about all the new problems she encountered as a cachetmaker, which included the deterioration of the once successful cachetmaker business model. And, incidentally, the deterioration of the business model hit Artmaster/House of Farnam/Cover Craft as well. This is fully discussed in the January 15, 2009 volume of First Days, in an article titled "The House of Farnam Story, The Artmaster Era: 1988 – 2005" by Barry N. Kaplan and Michael R. Rosenthal (beginning on page 11, with the business model discussion beginning on page 22).

With the increase in the ranks of cachetmakers also came the increase in people trying to make money off of the same finite universe of FDC collectors. What drove this home was when Lois told me that she stopped making money off of the ads she placed in First Days. Instead of making a nice profit, she was merely breaking even when one considered the cost of the ad and cachets sold in comparison with the gross proceeds the ad generated. And, incidentally, I discovered the same phenomenon was happening to me on the occasions that I placed an ad in either First Days or Linn's Stamp News.

Fast forward to 2008: Consequently, with the declining number of FDC collectors out there, coupled with higher production costs in doing cachets and the USPS issuing 100+ new stamp issues a year, I decided to take a different path. Since the number of cachetmakers out there producing FDCs and peddling their wares has dramatically increased, I discovered there was no money to be made any more as a cachetmaker. As a result, I do them when I find a stamp issue that interests me; and I don't care whether I sell them to other collectors or not. There are a few people out there who still currently buy from me, but not enough for me to make any money on the activity.

The quality of paper stock used in envelopes

During the years I produced cachets, I also had problems with the quality of the various brands of envelope papers I used. Commencing with the "B" Stamp cachet, I began using Artcraft watermarked blank envelope stock because I was having problems with the quality of the rag or cotton content envelopes I was using. Over the years, I used whatever I was able to procure inexpensively, resulting in mixed results. Unfortunately, on a number of my cachet issues, many of the flaps glued shut and some have discolored over the years with a brown spotting and/or the discolored bleeding of glue from the back of the envelope to the front. These defective envelope issues included the following cachets (mostly in 1975 & 1976): The Contributors to the Cause stamps (Salomon, Francisco, and Poor), Mariner Space probe, D. W. Griffith, Bunker Hill, 200th Anniversary of the Armed Services, Christmas 1975, 200th Anniversary of the Postal Service, and $1.00 Booklet pane singles (of March, 1977). The papers I had the most trouble with were Eagle A Trojan Bond, and Parson's Heritage Bond. I had trouble with some, but not all, of the cachets printed on Certificate Bond envelopes and Weston's Merit Bond fluorescent envelopes. I found that certain Certificate Bond envelopes were prone to having their flaps glued shut and others were prone to developing brown spotting. The Merit Bond envelopes exhibited the discolored bleeding of glue from the back of the envelope to the front. I produced cachets on Goldsmith Brothers Chile Bond envelopes beginning with the VFW Stamp in '74 and ending with the Pioneer Space Probe in '75. These have yellowed slightly over the years, with some envelope flaps glued shut, but otherwise have held up fairly well. I also used Rising Bond (for Lindbergh and Franklin version #3), and selectively a very few Eaton's Berkshire Bond envelopes throughout in the early years, which all held up extremely well. The Energy Conservation cachet from 1974 was the only cachet that was 100% printed on Gilbert Bond envelopes and it has held up very well with no problems whatsoever. It was my belief that if I stuck with the Cockle finish Certificate Bond (which I could readily obtain) and the Artcraft rag content envelopes, this would solve my envelope quality problems.

Back in early 1976, I was fortunate in acquiring crème colored laid finish envelopes (Rising Line Marque brand) for a very reasonable price, which I used on the following cachets in 1976: 100th Anniversary of the Telephone, Commercial Aviation, Chemistry stamp, all the two color Franklin cachet varieties, 7.7 cent coil, 7.9 cent coil, Winter Olympics block of four, Clara Maass, Adolph Ochs, and the Christmas 1976 set. I also used these envelopes for the following in 1977: Washington at Princeton and Articles of Confederation. For the latter, I also used cockle finish white Certificate Bond envelopes because I ran out of the laid finish envelopes. All of the cachets printed on the Rising Line Marque laid finish envelopes, with few exceptions, held up very well over the years. The cachets that were printed on the Artcraft rag content envelope bond have been completely trouble free. Associated with this document is an excel spreadsheet with the full record of which envelope bond paper was used with which cachet. I know that I beat this one to death, but there is a very important lesson to be learned here. If you find a good quality envelope paper, stick with it and spend the extra money to keep using it if necessary. It will save you heartache later.

NOTE: I have an Excel Spreadsheet showing which bond envelopes were used with each cachet produced for anyone interested. This spreadsheet is in the AFDCS Archives and is also available from me on request.

Specific Discussion of certain cachets follows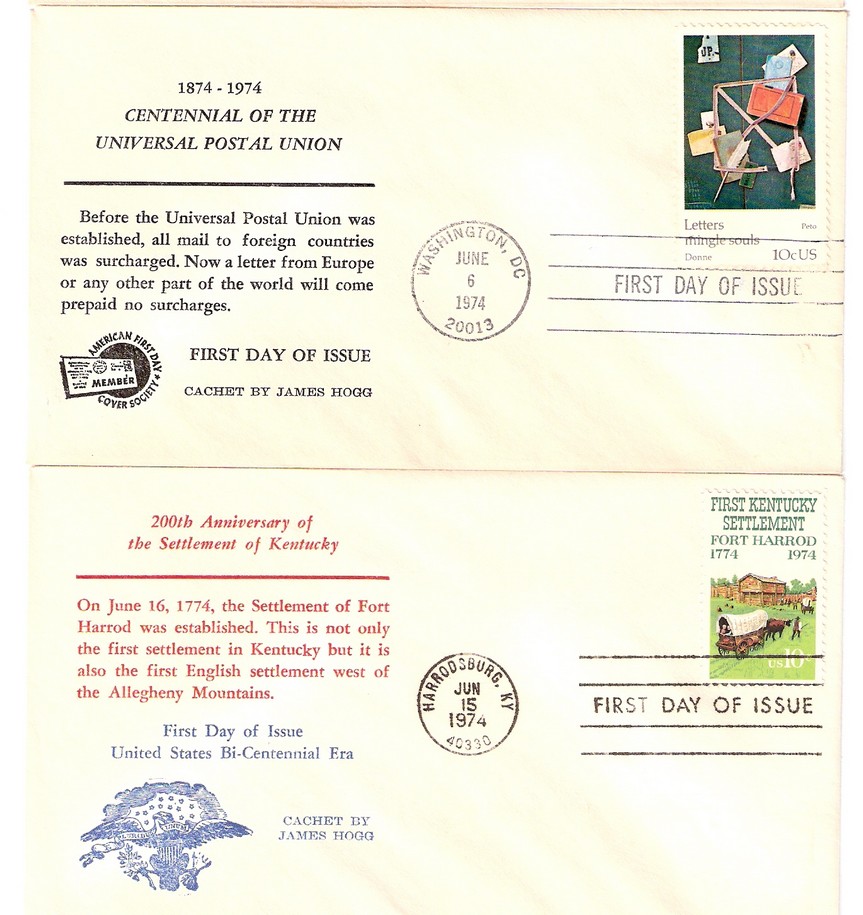 The UPU stamp issue was a multiple stamp issue so there are very few complete sets of this cover in existence. The two colored Harrodsburg cover exists with UO cancels. I was fortunate in being able to get some wonderful UOs on my cachets from other AFDCSer's who attended.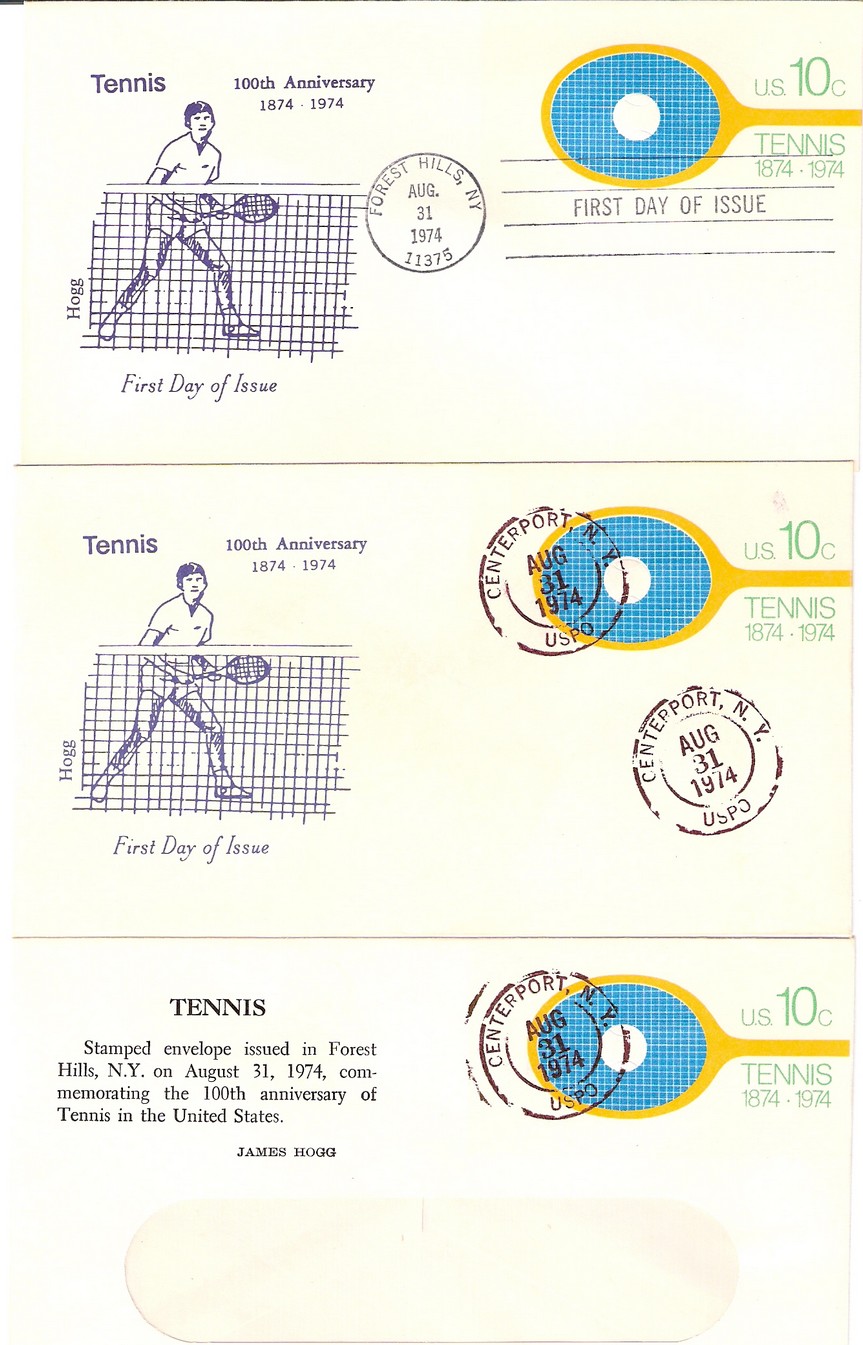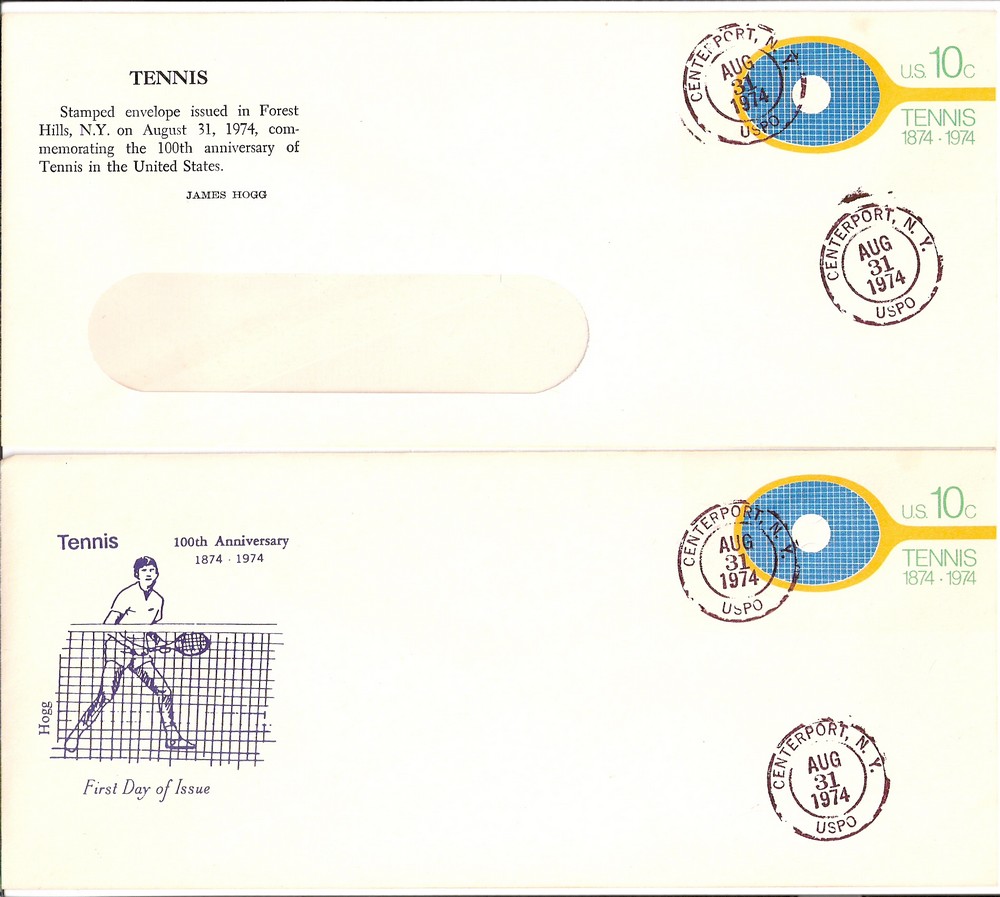 The Tennis Envelope exists in both plain and window variety in both sizes. The large size with Hogg Cachet exists with UOs and a machine official FDOI. Both window varieties with Hogg Cachet exist only with UO cancels.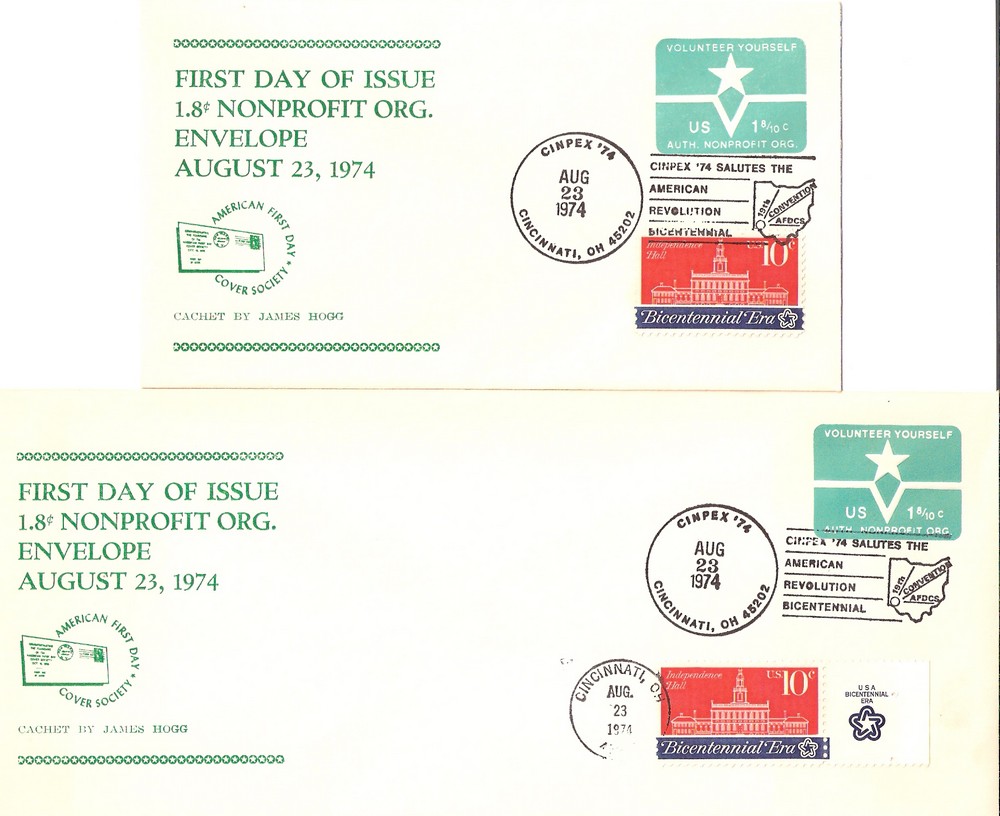 The 1.8 cent non profit envelope with Hogg Cachet does not exist with the official FDOI cancel. This cachet was produced at the request of Barry Newton of Ohio.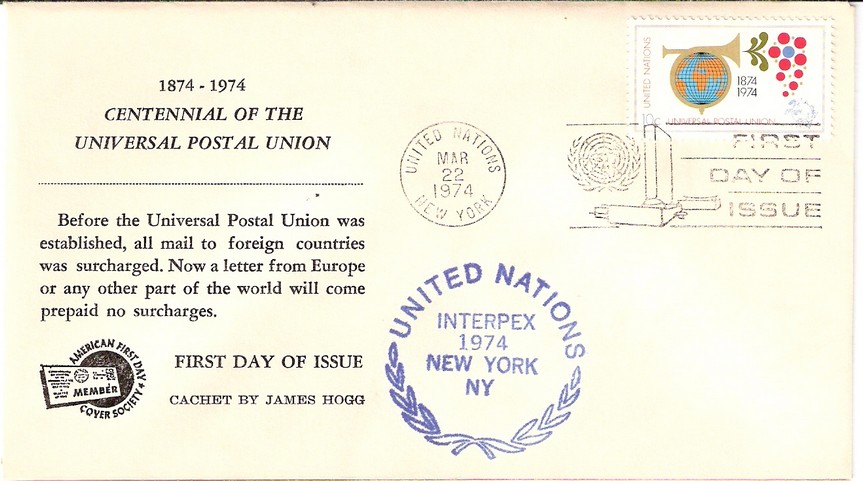 The Above UN UPU Cover is the only Hogg Cachet I ever produced for a UN stamp issue. It exists with both hand and machine cancels.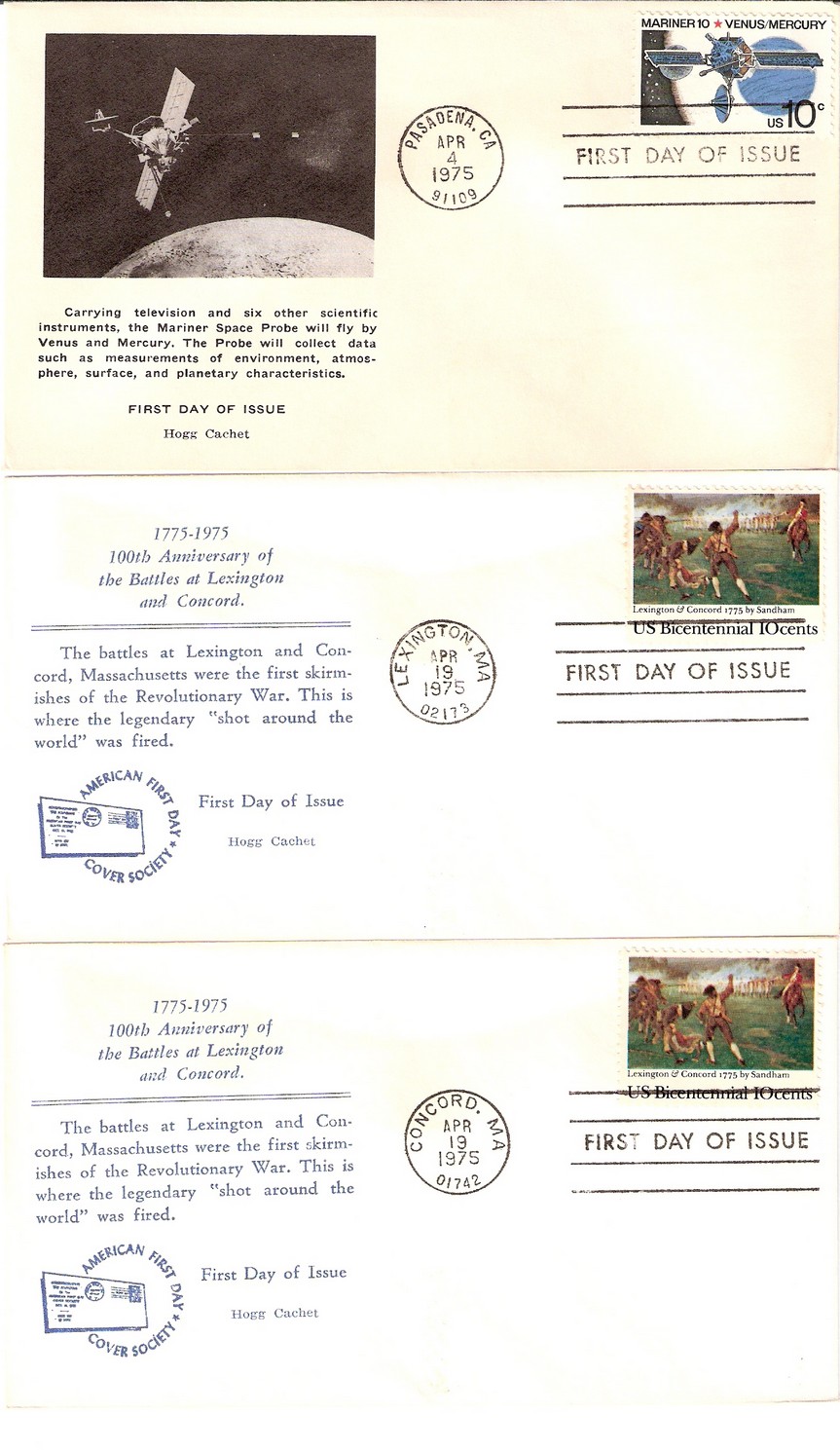 I used an official NASA photograph for my image on the Mariner Space Probe cover. I also had my share of printing errors. Note that the Lexington and Concord cachets above proclaim "1775-1975 100th Anniversary…" Also, the cachet's text reads "shot around the world." It should have read "shot heard around the world." These were printer's errors that were not caught prior to the covers being serviced!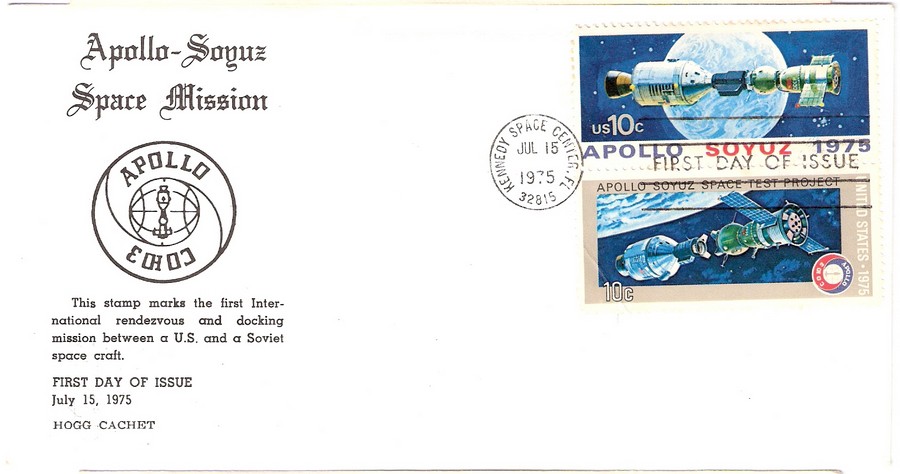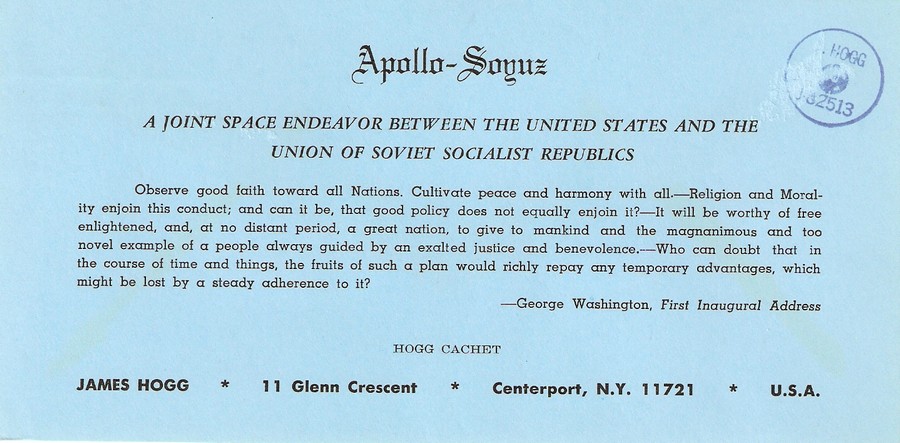 The Apollo Soyuz covers were done on monarch sized envelopes. A special stuffer card was produced for this cachet – also reproduced here.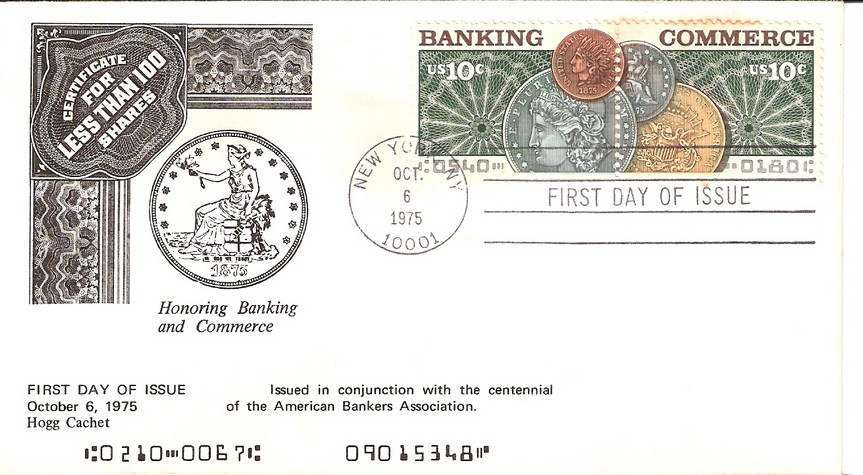 The Banking and Commerce cachet is unique because the stock certificate corner was off one of my General Motors stock certificates. The numbers across the bottom of my cachet were from the bottom of the checks from my Dad's checking account at Irving Trust Company at One Wall Street in New York City. The MICR numbers 0540 on the bottom of the Banking stamp stand for Washington, D.C. and the 0210 on my cachet stands for New York City in the check clearing system of the United States. All of you bankers probably know that fact. And for those interested in counterfeiting checks, this is an invalid routing/transit code and an invalid account number today!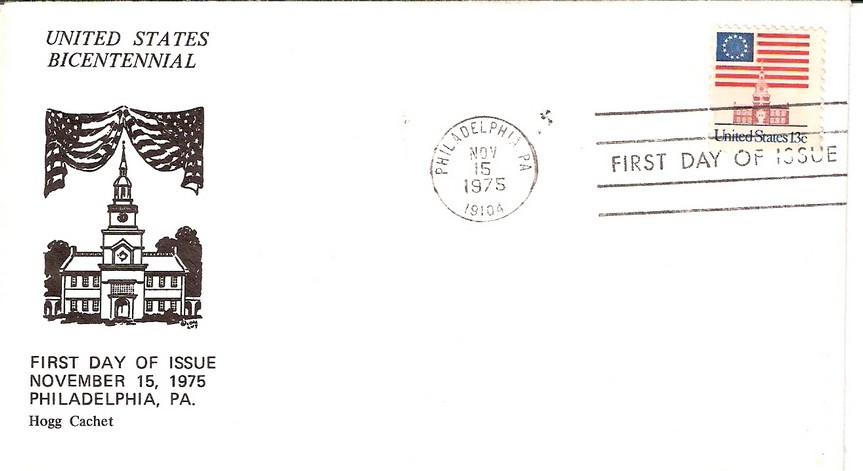 This cover is for the flag over Independence Hall, which illustrates my second use of the Com Cut I used in 1974.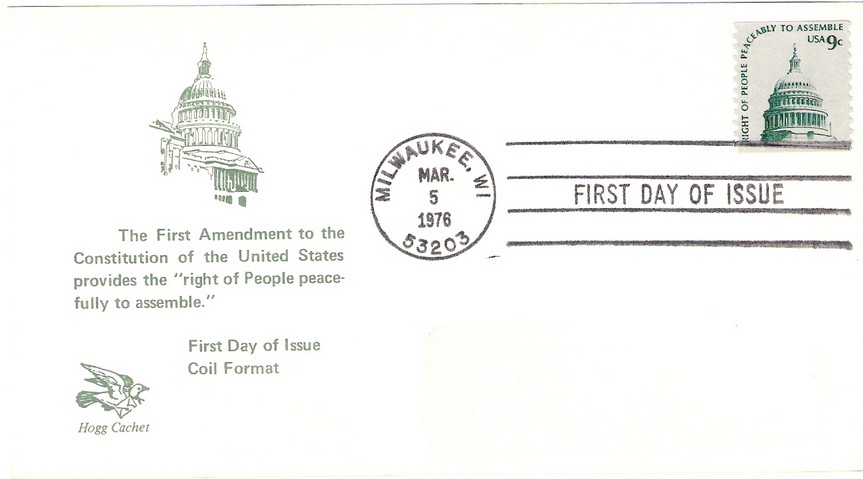 The 9 cent Capitol stamp FDC was on post card stock so that there would be no extraneous stamps to detract from the issued stamp. I also have this cachet with the stamp cancelled FD with the MILCOPEX show cancel. Unfortunately, there is a printer's error on this cachet as well. The text reads "right of People peacefully to assemble." It should have read "peaceably" instead of "peacefully." This was not caught until after the covers were serviced.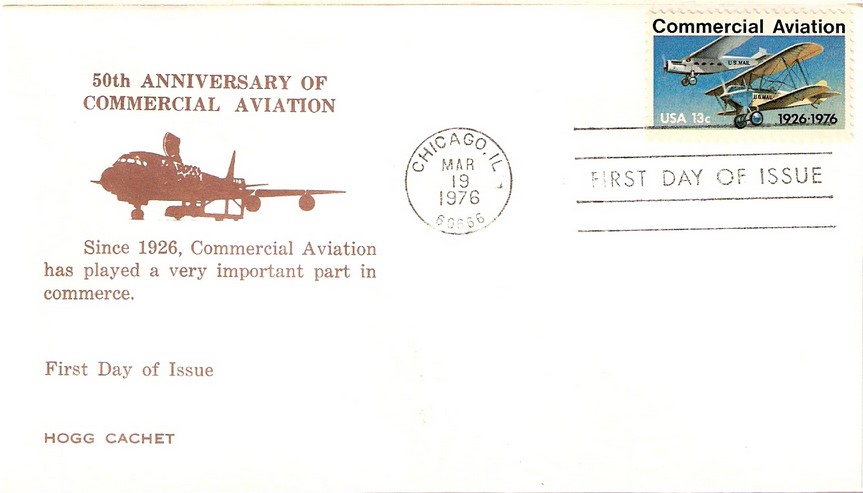 Occasionally, I found images in unusual places. For example, the airplane image on the Commercial Aviation cachet above came from specially printed notepads distributed at an annual shareholder's meeting for the old Seaboard World Airlines, an air freight carrier.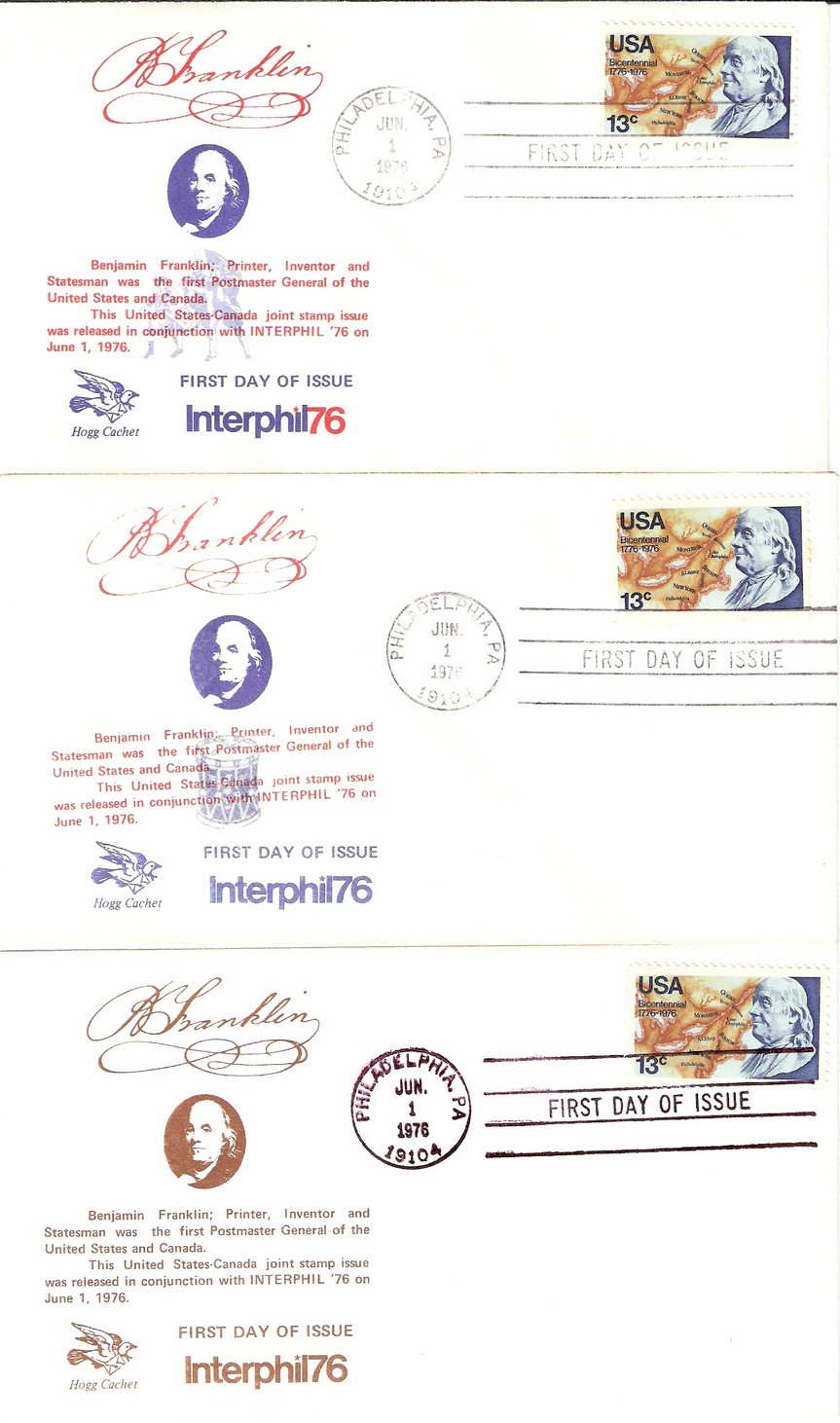 Note that the bottom cover illustrates a dark magenta colored hand FDOI cancel.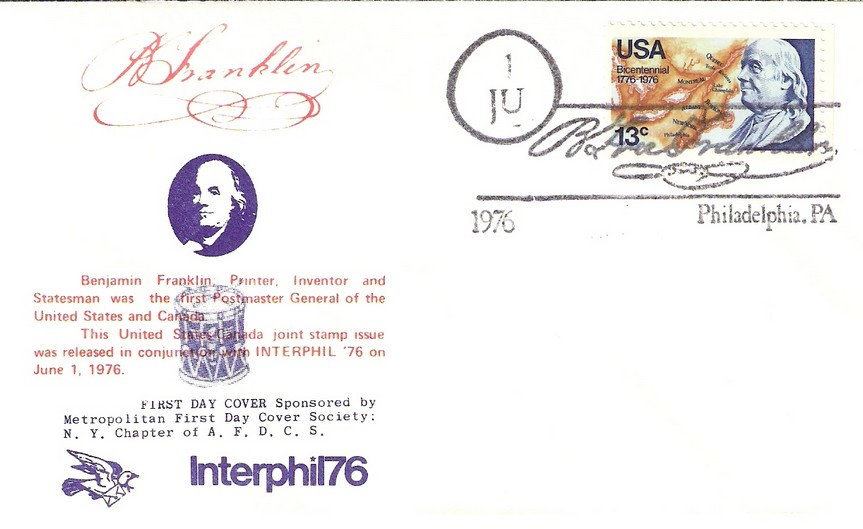 The 13 cent Benjamin Franklin Cachet has multiple varieties. The first group of three covers illustrated above shows varieties #1, 2, and 4, from top to bottom in that order, with variety #3 shown here. As explained earlier, the first variety couldn't be produced in sufficient quantities because the printer was not able to line up the colors properly, so he refused to print it. The quantity existing for this variety is limited. This caused me to seek another printer to produce cachets for me. The second variety was produced by another printer, and it is slightly different and of a poorer printing quality. The fourth variety was produced by the same second printer in a single color just in case the second variety couldn't be produced. The third variety, illustrated on this page, was the official cachet for the MFDCS in New York City and was produced by the same second printer. All these covers exist with UO cancels.
As mentioned previously, I have found images for my cachets in some unusual places. This Franklin cachet is no exception. The half tone of the drum over the text found in varieties #2 and #3 came from a sugar packet. I took the image from the sugar packet, blew it up, and had the printer create a half tone of it for this cachet. I used this same drum image in my design for the 7.9 cent Bulk Rate Coil stamp cachet which appears in the following image.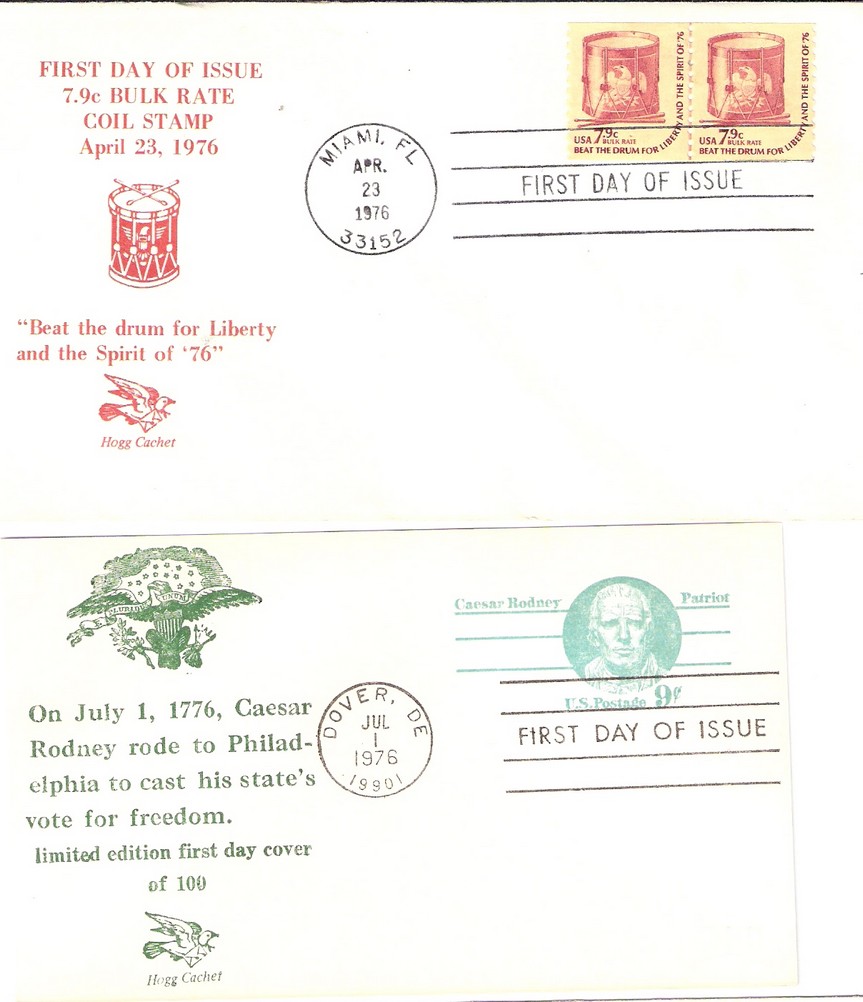 The Caesar Rodney Postal Cards were serial numbered on the reverse side of the card with a red numbering machine. I also rubber stamped a five pointed star there in ink that could only be viewed under a black light.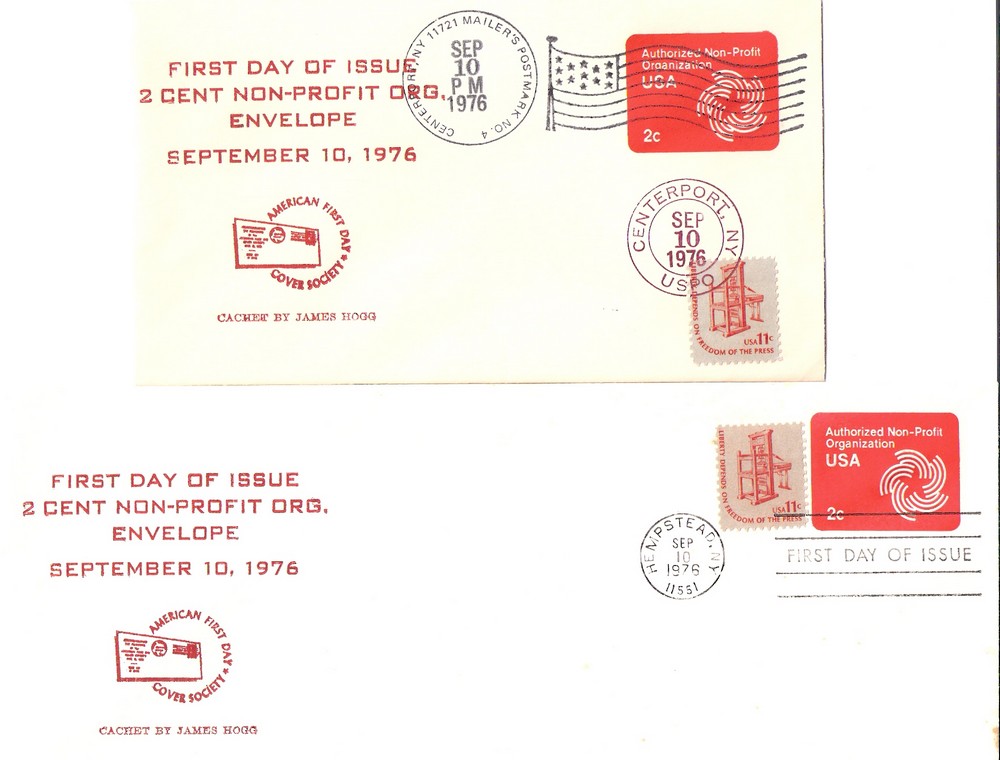 The 2 cent non-profit envelope exists with a variety of UO cancels. These cachets, along with the Caesar Rodney Postal Card (above) and the 13 cent Bicentennial envelope (both sizes) of October, 1976, were all printed by a philatelic printer I became friendly with in New Hampshire. They were printed by letterpress.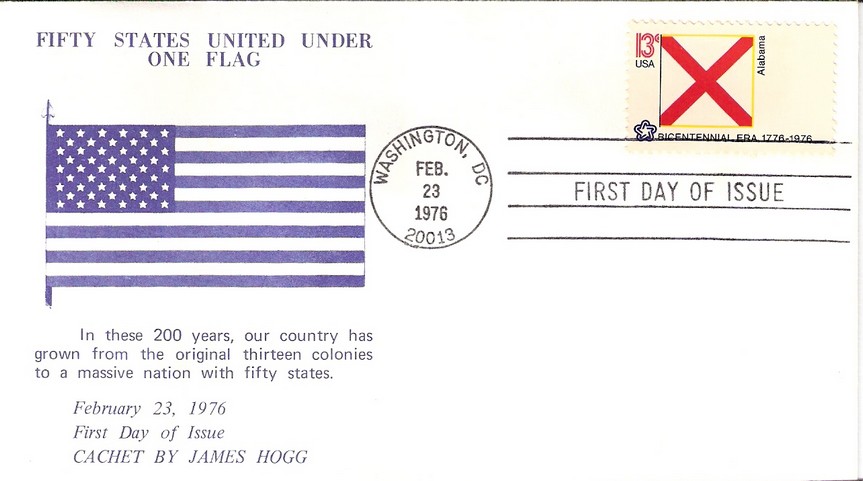 There are very few complete sets of the fifty flags issue existing on my cachet because they were presold only by special order to those of my customers desiring them. I also produced one full set of fifty for my personal collection all cancelled with the various cancellations available at the Centerport, New York post office (including my mailer's postmarks and Jim Morvan's mailer's postmark #5. He was and still is my best friend from first grade, still living in Centerport today).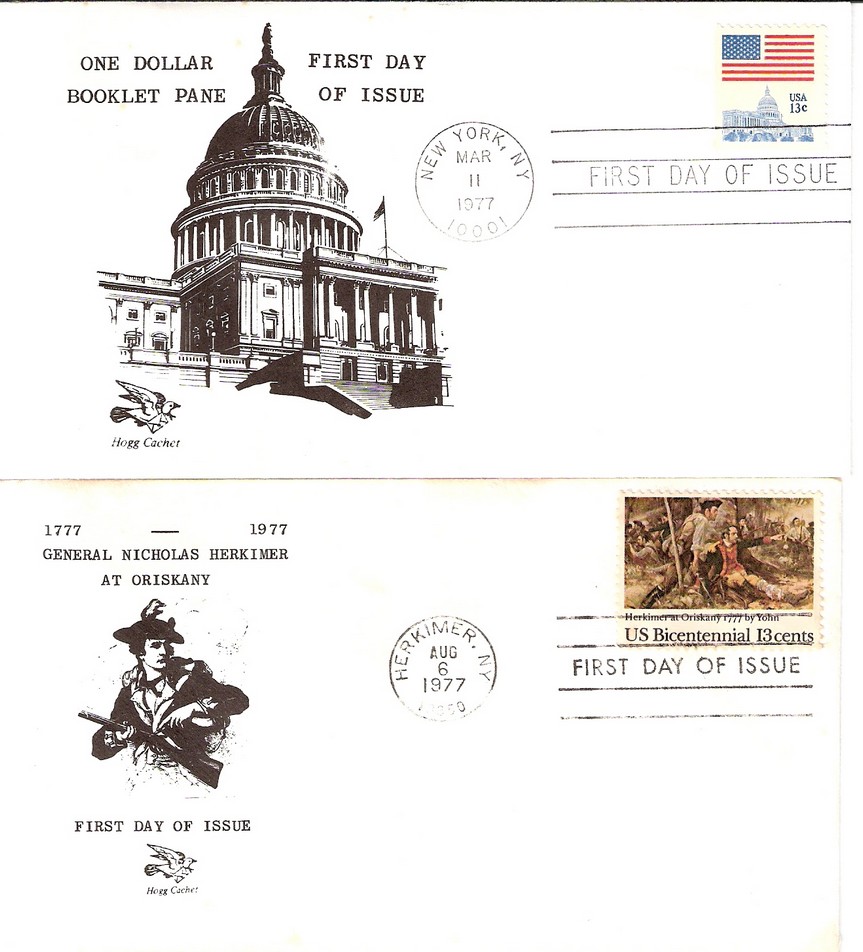 The One Dollar Booklet Pane covers were serviced ONLY with the non-exploded booklets. Therefore, they exist only with the rare perforation variety on FDC. The Herkimer covers are all serial numbered, with a red number appearing on the back of each cover in the lower left corner.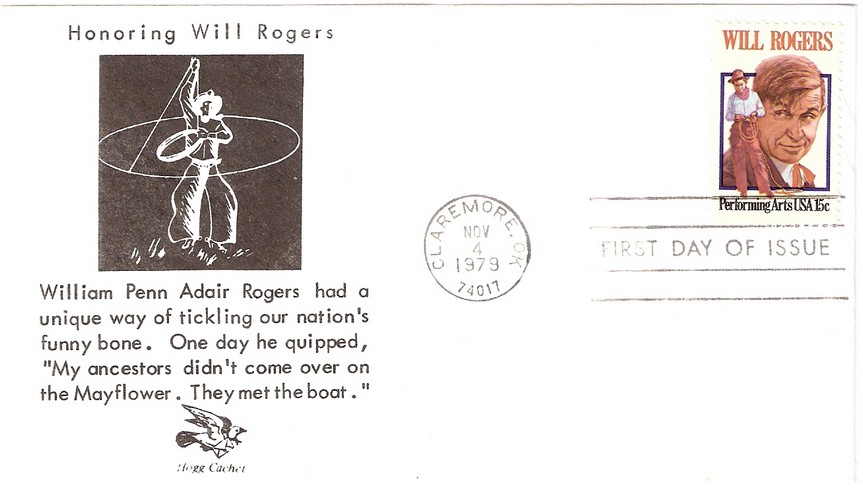 I have a couple of examples of the Will Rogers stamp on my cachet cancelled FD with the FLOREX Show cancel in St. Petersburg, Florida. Gerry Adlman had the stamps flown in from Oklahoma and she kindly sold me a couple for my collection.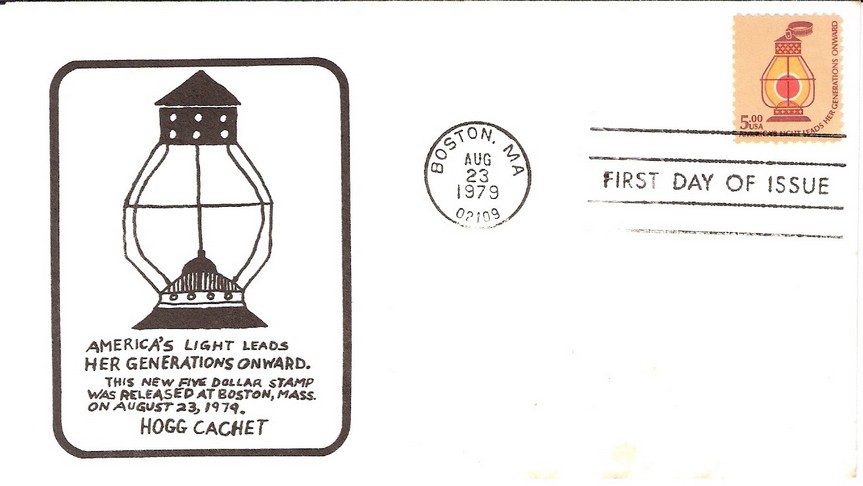 This cachet was my own hand drawn design for the $5.00 Lantern Definitive. Obviously, back in those years, I didn't have much money so this was an expensive stamp issue cover to produce. I pre-sold these covers and only produced twenty of them for sale. I kept only one for my collection, and that cover appears here.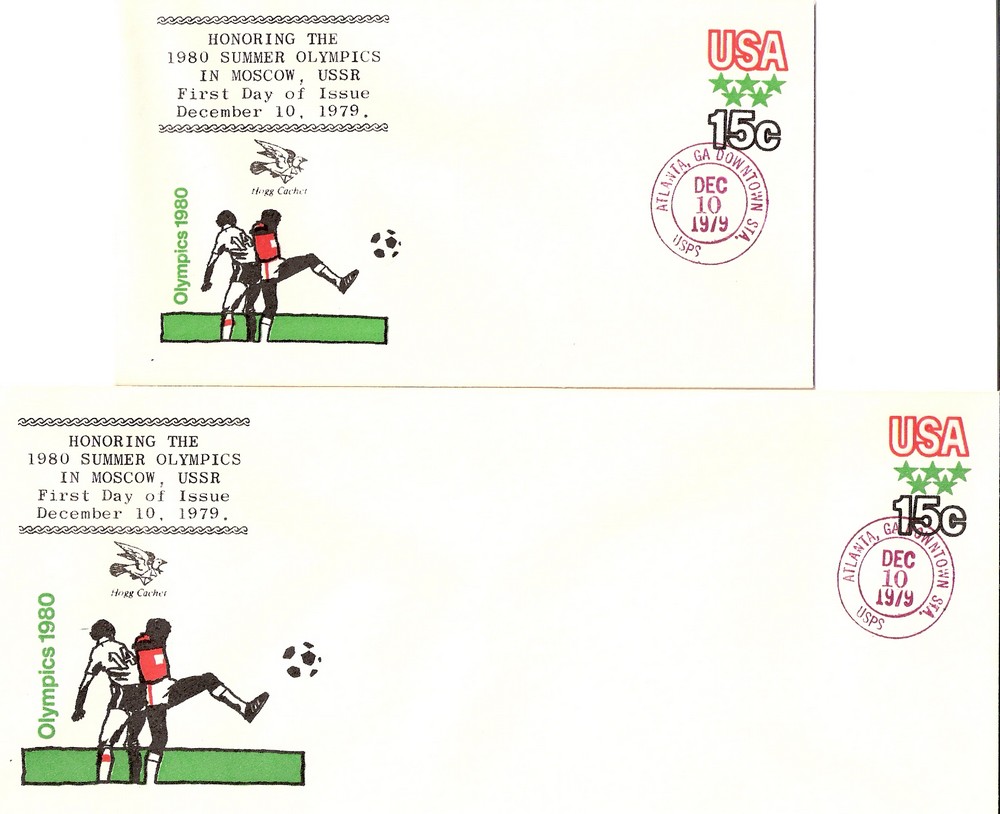 The Olympic envelope was produced at the special request of Luke Kaufmann of Georgia and does not exist with the official FD Cancellation.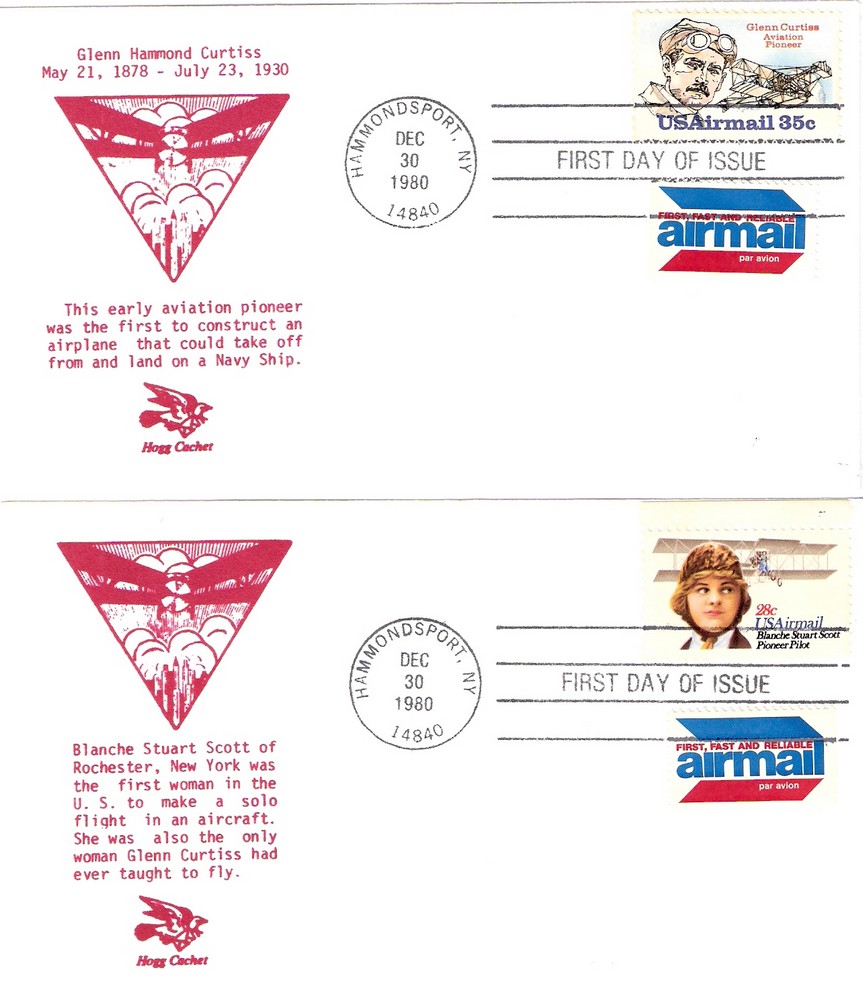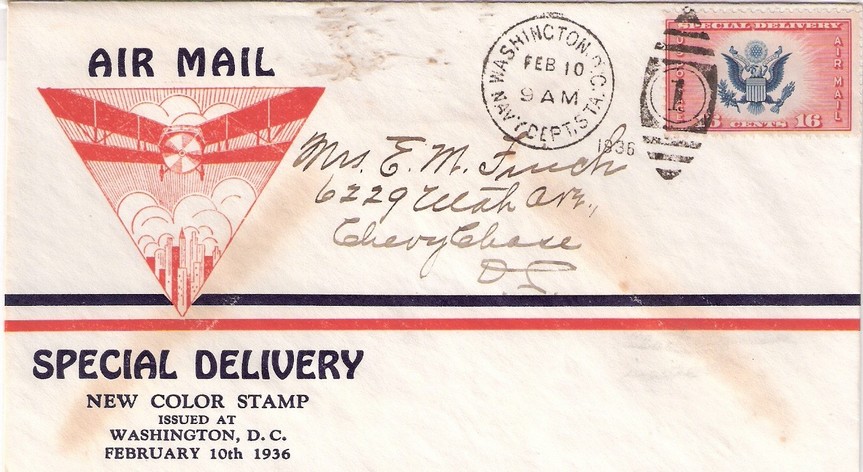 For the Curtis and Scott Airmails, I recycled part of an old Cachet design produced for the Airmail Special Delivery stamp issued on February 10, 1936. I also reproduce an image of that cacheted FDC since it is in my collection. Adam Bert used this same design element in his cachets for the 1933 Century of Progress stamps.
Illustrated immediately below my Curtis and Scott cachets is the cacheted cover for the 16 cent Airmail Special Delivery stamp issued on February 10, 1936. This, I believe, is a Gorham Cachet, although it could be an Adam Bert. My image for the Blanche Scott and Glenn Curtis cachets illustrated above came directly from this cover.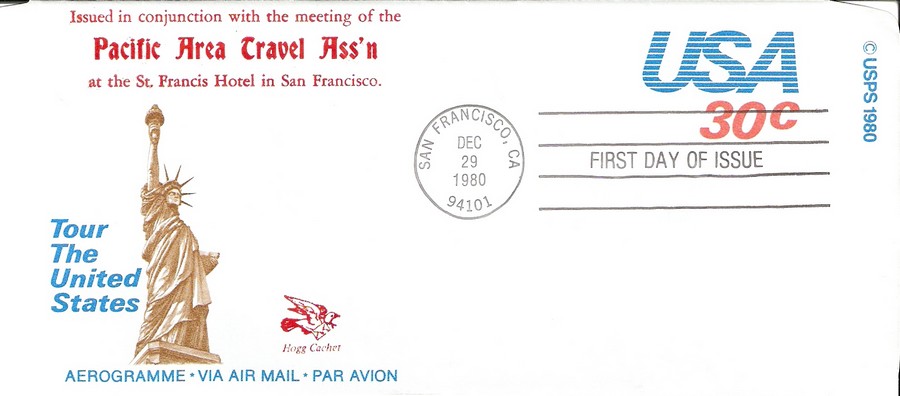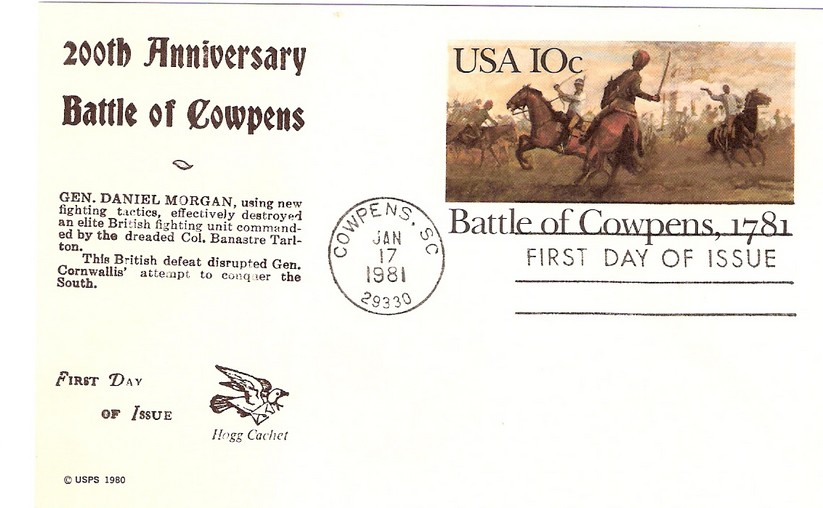 The 30 cent Tourism Aerogramme and 10 cent Cowpens postal card were both printed for me by Richard Needham of MAHDEEN Cachets in Lancaster, Ohio. His cachet design for the Cowpens card was very similar to mine. He produced 350 of his Mahdeen covers, selling 250 to a friend of his in Washington, DC. Richard and I struck up a friendship and I had him print these covers for me. That makes these covers somewhat unusual in that they were designed by one cachetmaker and printed by another.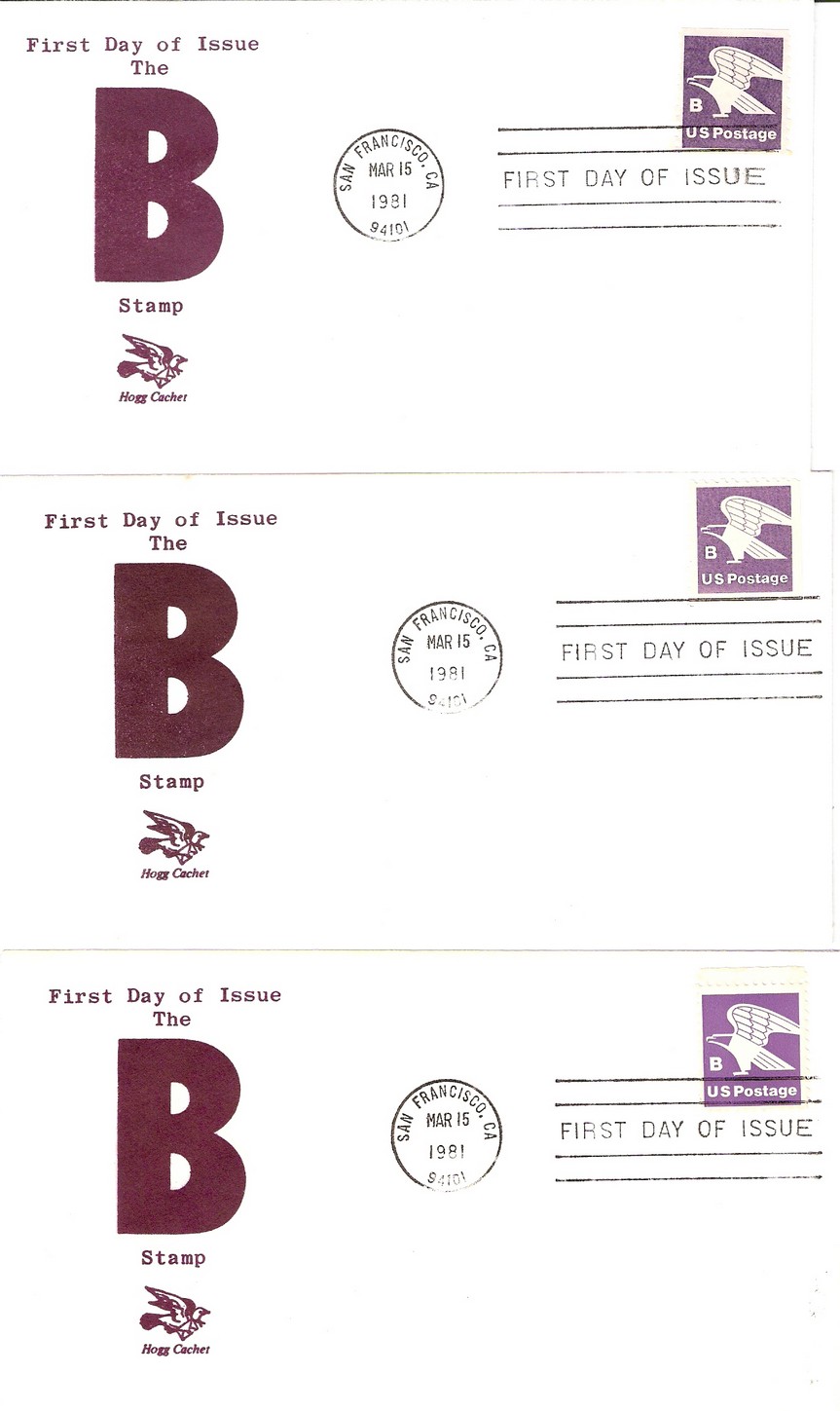 This cachet was serviced with the sheet, coil, and booklet "B" stamps – all three are illustrated here. It also is the first stamp issue where I used Artcraft watermarked rag content envelope stock.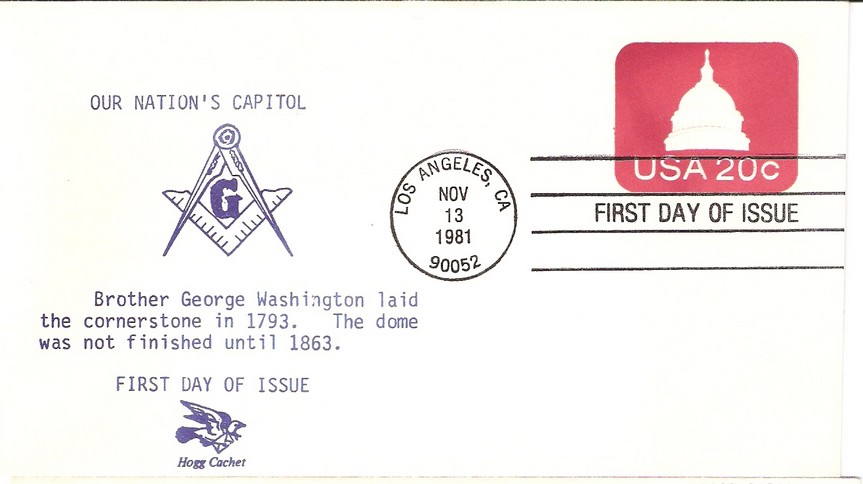 In 1981, I became a member of Fort Myers Beach Lodge No. 362, F & AM. Commencing in that year, I produced Masonic theme FDCs for some stamp issues. The 20 cent Capitol Dome stamped envelope was my first such Masonic theme cachet. It also exists in the large size (not illustrated).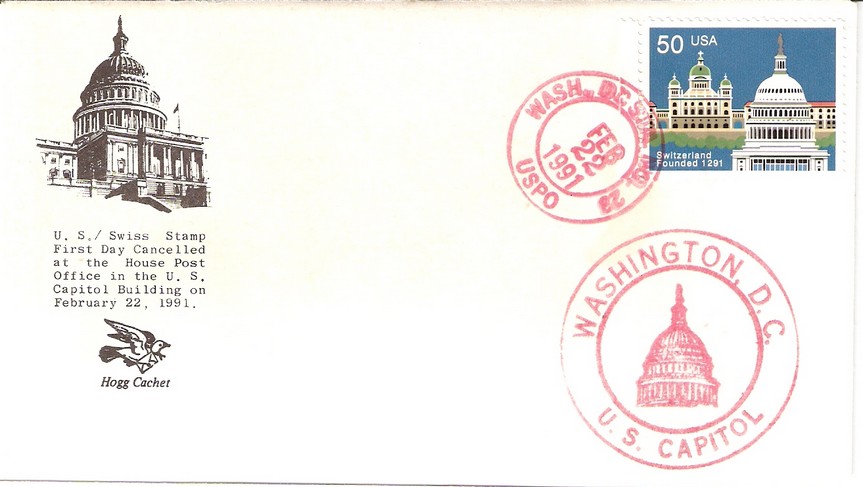 This cover was a cachet used exclusively for covers postmarked at the House Post Office in the US Capitol Building and does not exist with the official FDOI cancel.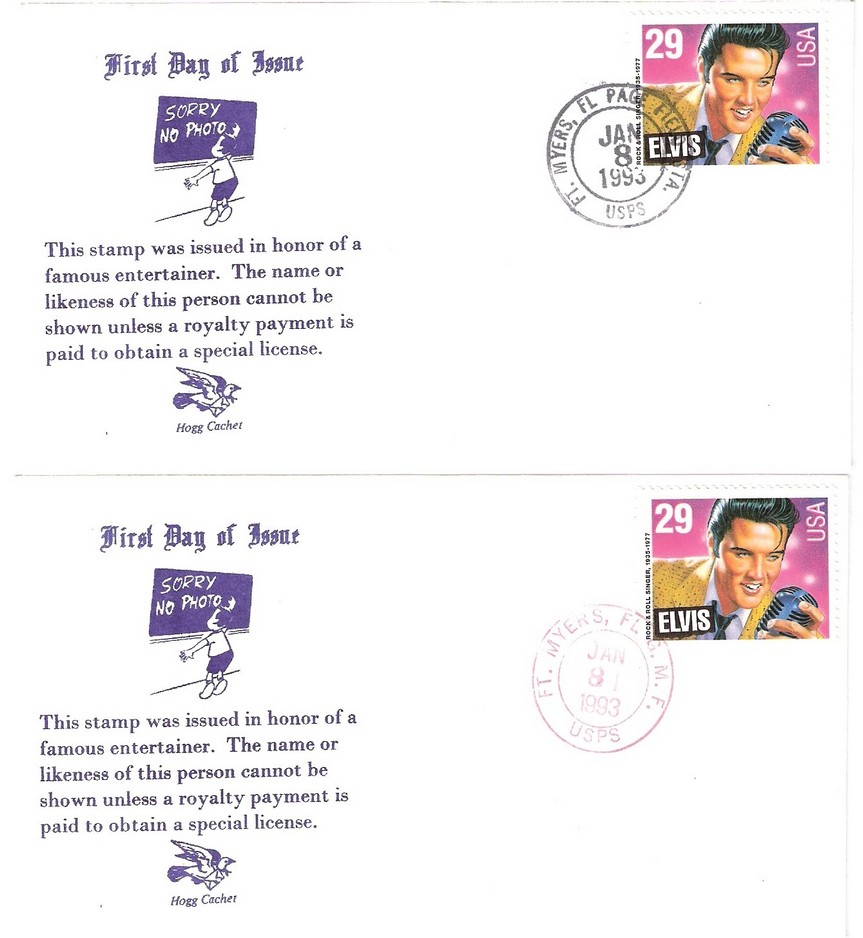 The Hogg Cachet for the Elvis Presley stamp was FD postmarked in Fort Myers and Fort Myers Beach only (five different cancels). My cachet design reflects my disdain at the time with the USPS for not providing for cachetmakers when they negotiated a royalty license to put his name and image on the stamp with those owning the rights to Presley's image and likeness. I produced fifty of these covers. (Bottom cancel reads "Ft. Myers, FL. G. M. F. USPS." This was a cancel used at the main mail processing facility near the airport. No window services were available there.)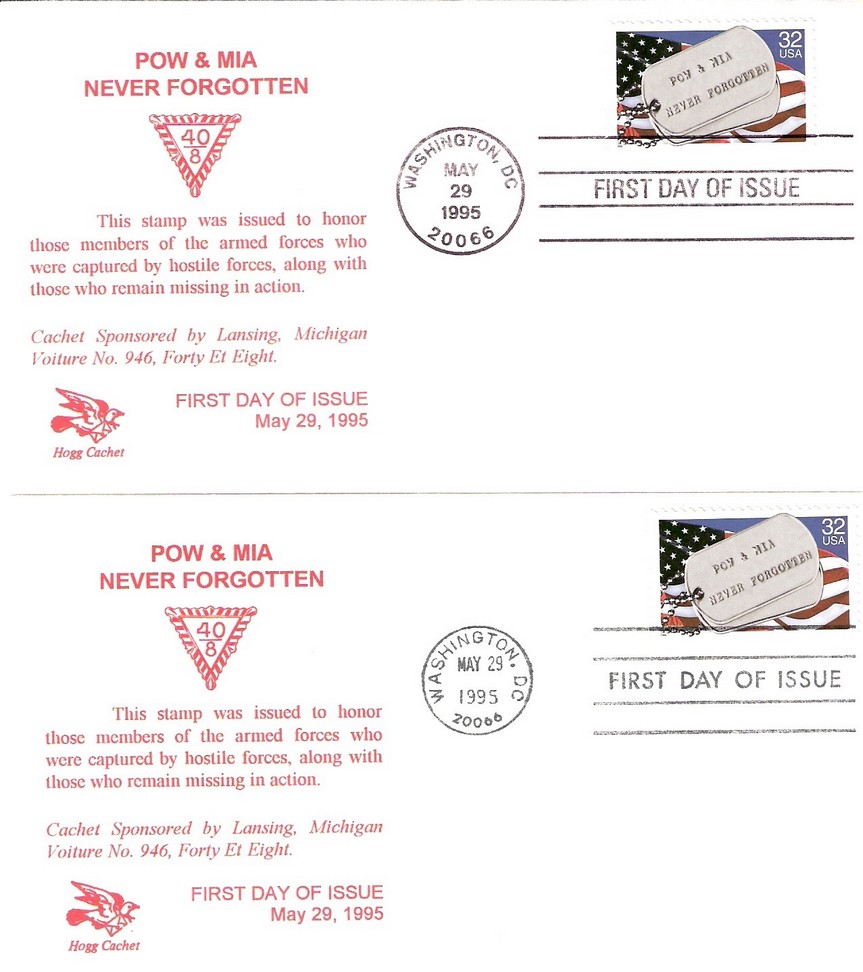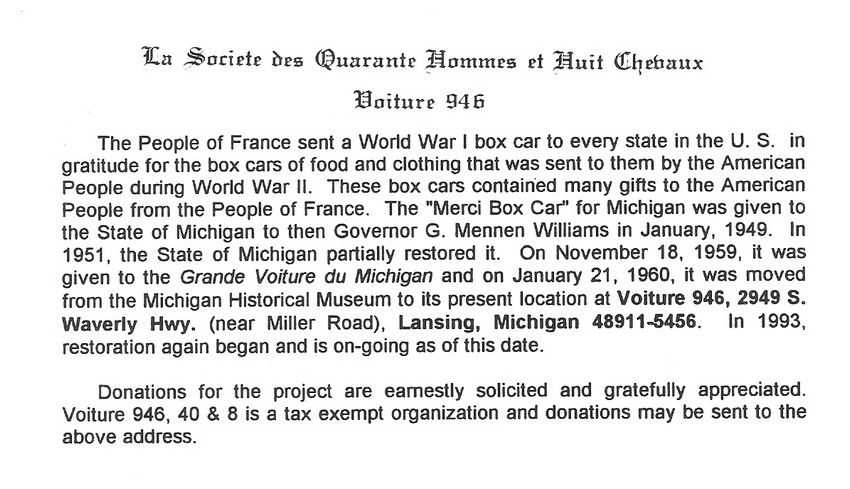 The cover I did for the POW/MIA stamp was a fundraiser for the 40 & 8 in Lansing, Michigan. The whole lot was FD cancelled in Washington, D.C. with both hand and machine cancels. However, I also took two blanks and sent them in for a FD cancel in Mississippi for my collection. The stuffer card I inserted into each of these 40 & 8 covers, which explains their project, also appears here.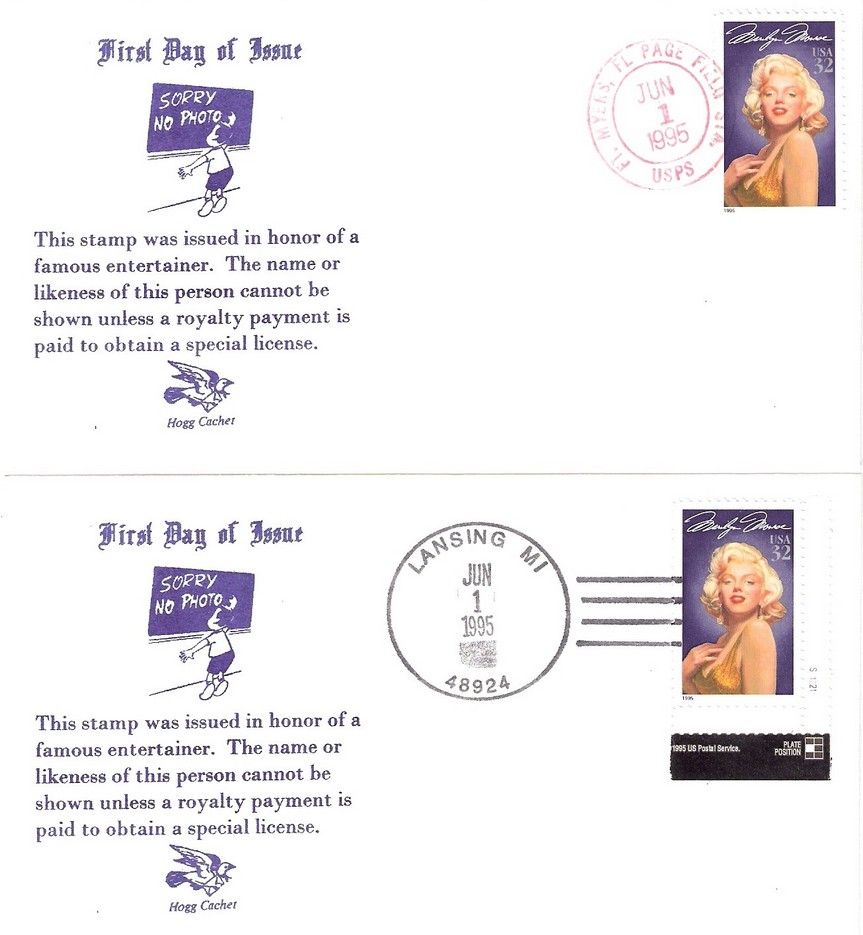 The Marilyn Monroe cover was produced with the same cachet as the one I used for the Elvis Presley stamp for the very same reason. I only produced around 25 of these, so they're relatively scarce. I was in Michigan at the time attending law school when the stamps were issued so I serviced these covers in Lansing, Michigan. The very accommodating people in the Lansing main post office insisted that I should have a philatelic cancel on my covers. That is why this cover has such a nice cancellation. My parents serviced the others back home in Fort Myers for me. These are the only two cancels appearing on my cachet for this issue.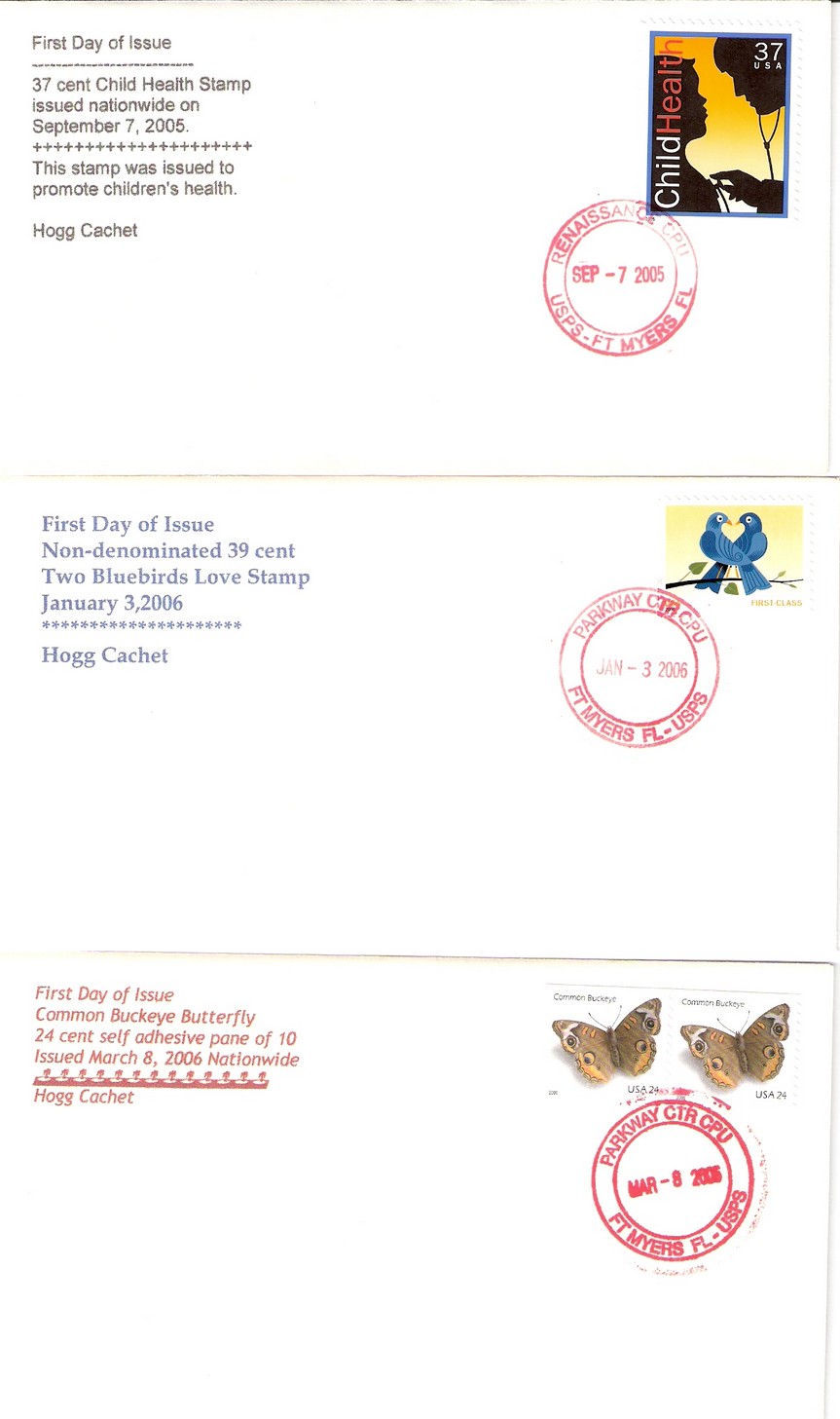 These last three were stamps that were issued nationwide so I produced covers for them because I could service them locally. It should be noted that finding the whole group of the nationwide issued stamps on the first day for all these new stamp issues was problematic. Our post offices in the Fort Myers area never received or sold many of the issues that were supposed to be available on the first day.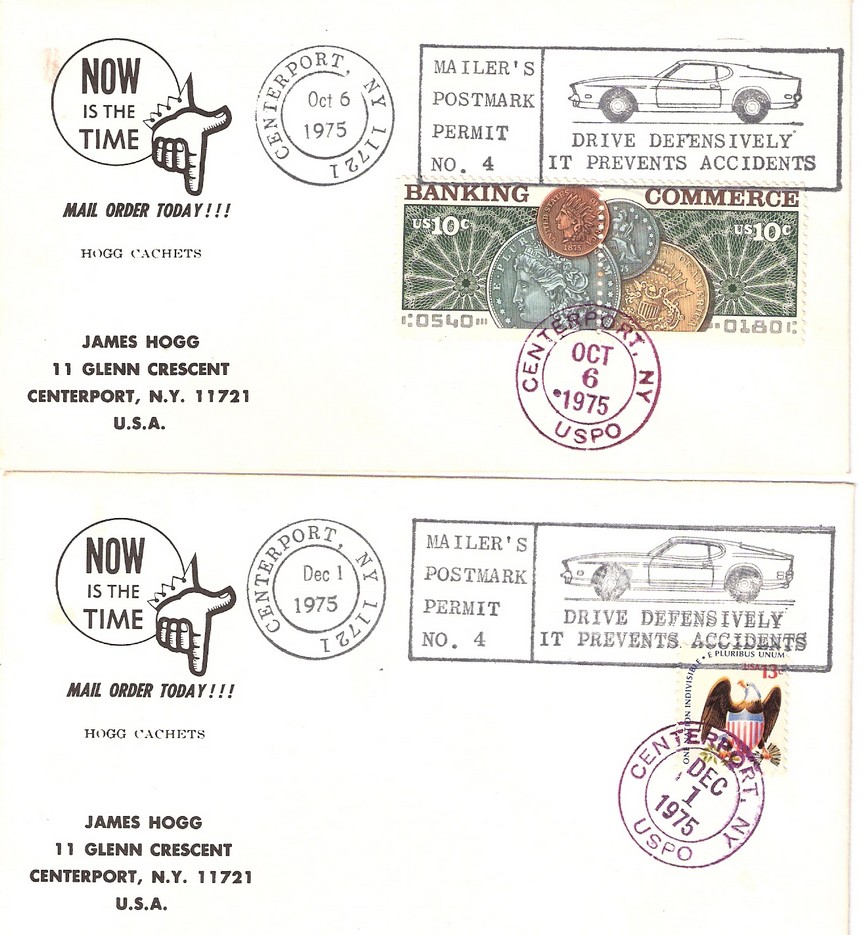 Here are examples of my mail order return envelope I used occasionally for UO FDCs. The mailer's postmark was mine. I used these envelopes from time to time to service FDCs and UOs. These two are UO FDCs for Money and Banking and Eagle & Shield stamps.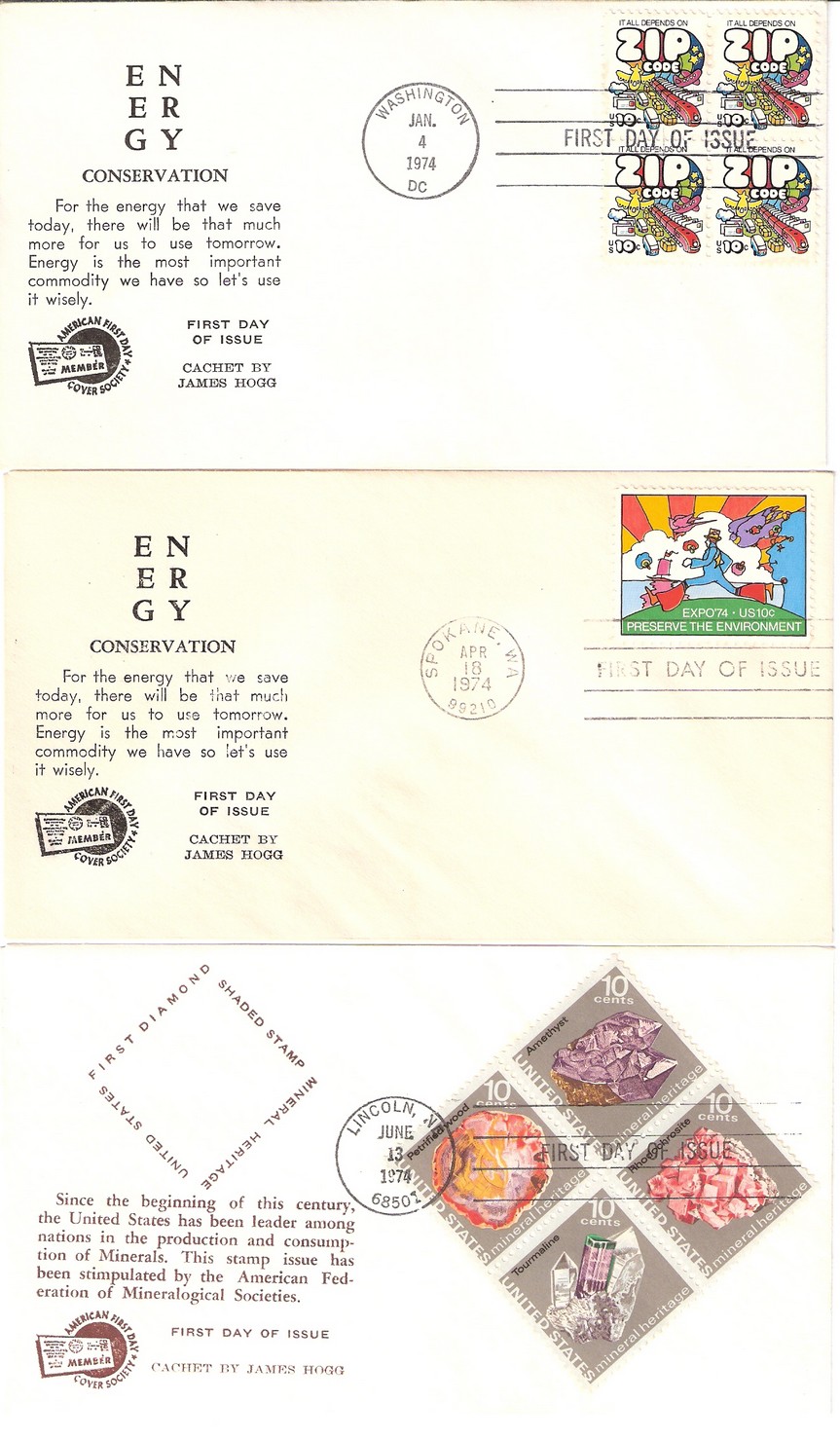 Here are some unusual covers. The first two were uncacheted covers I put in the batch when I had the Energy Conservation Stamp cachet printed. The minerals cover is a misprint. The cachet has "First Diamond Shaded Stamp" printed at the top. The error was caught (by me) just as the printer was about to print them and only a few were made. The properly corrected cover reads "Shaped." However, there is a grammatical error and a misspelled word we didn't pick up. There should have been an "a" between the words been and leader in the first sentence. And, in the second sentence, "stimpulated" should have read "stimulated." As you can see, my printer wasn't the greatest proofreader – and neither was I at the time!!
Epilogue
After graduating from C. W. Post College, Long Island University in May of 1979, I moved to Florida, where my parents retired. I wound up living in the Fort Myers area, where I remain today. After graduation, the job market was tight and I was unable to secure any meaningful employment. As a result, I ended up in the real estate business at the height of one of the worst recessions to hit the United States since the 1930's. I struggled through that ordeal, eventually winding up with my own mortgage company. I was FHA and VA approved by the federal government and offered the full array of mortgage financing available for residential properties. Even though I am not active in the business today, I still maintain my VA approved lender status with the federal government and keep current the mortgage lender's license I possess from Florida's banking authorities in Tallahassee.
In 1993, I discovered that the mortgage business was no longer profitable and I elected to return to law school. I graduated from Thomas M. Cooley Law School in Lansing, Michigan in January, 1997, and returned to Florida. I passed both the Florida and Georgia bar exams on the first try and became licensed to practice law in both those states. I was also admitted to the bar in the District of Columbia and additionally to the bar of the Supreme Court of the United States.
From 1998 to 2005, I was a trial attorney in the criminal courts of the Twentieth Judicial Circuit of Florida in Fort Myers working for the Public Defender's Office. I "retired" from that job in August, 2005 – one week before I turned 50 to pursue other interests. Currently, I am a private investor and occasionally handle legal issues for select clients. Unfortunately, I lost both my parents within the past 18 months – my mother on September 11, 2006 of cancer and my dad in August, 2007 of heart failure. I have also struggled with a bout of poor health myself in 2007 and 2008. With a required new diet regimen, I am now improving.
My activities in attempting to earn a decent living over the years, always a struggle seriously interfered with my cachetmaking and collecting activities. This will explain why in the years after 1981 there are few Hogg cacheted covers in existence. Today, my main interests also include Freemasonry. I have been a member for over 25 years, having served my lodge as Master and the Grand Lodge F&AM of Florida as District Deputy Grand Master. I have been active in many branches of the fraternity too numerous to mention here, including my current position as Treasurer of the York Rite Bodies locally for 13 years, with 11 of those years being consecutive to date. I am also active and a member of lodges in Manchester, England and Dublin, Ireland, as well as possessing the rank and decoration of Knight of the York Cross of Honour.
I have also received a couple of civil honors. I was commissioned a Kentucky Colonel by the Governor of Kentucky and was also selected to be honored as an Honorary Deputy Sheriff some years ago by the Sheriff of Lee County, Florida. Currently, I am serving on the finance committee of Lee Mental Health Center, Inc. This is the "not for profit" psychiatric facility serving Lee County, Florida.
I am sure that I probably unintentionally omitted other important information here. If I have done so, I will produce an addendum to supplement this document.
- This document was written on February 29, 2008, and revised on January 24, 2009.
HOGG CACHETS and JAMES HOGG have appeared from time to time in "First Days," the official publication of the American First Day Cover Society.
This is an incomplete listing of places in "First Days" where "James Hogg" or "Hogg Cachets" has appeared.
Nov/Dec 1974 (Vol. 19, #6) P. 68 Unofficial Cancellation Capers (Tennis Envelope)
Jan/Feb 1975 (Vol. 20, #1) P. 59 Same as above, but includes 10 cent Christmas 1974
Jan/Feb 1976 (Vol. 21, #1) P. 53 Cachet Maker Directory
May/June 1976 (Vol. 21, #3) P. 30-32, Full article titled "The Hogg Cachet" by George Peters
Jan/Feb 1977 (Vol. 22, #1) P. 72 Unofficial Cancellation Capers (10 cent Adolph Ochs)
Mar/Apr 1977 (Vol. 22, #2) P. 90 Cachet Makers Directory
May/Jun 1978 (Vol. 23, #3), P. 85 Article on Metropolitan FDC Society mentions Hogg
Jan/Feb 1979 (Vol. 23, #1) P. 75 Cachetmakers List
Jul/Aug 1979 (Vol. 24, #4) P. 76 same
Jan/Feb 1980 (Vol. 25, #1) P. 40 Picture of James Hogg with Roy Mooney & Larry Birger at AFDCS Convention in St. Petersburg, Florida.
Jan/Feb 1981 (Vol. 26, #1) P. 50 Picture of James Hogg with Prof. Earl Planty in Philadelphia, Pa.
Jul/Aug 1981 (Vol. 26, #4) P. 535 Spirit of 76 cachet appears in cachet listing
Sep/Oct 1981 (Vol. 26, #5) P. Cachetmakers List
May, 1982 (Vol. 27, #4) P. 505 Lists Lexington & Concord cachet and P. 506 lists Articles of Confederation cachet.
Apr. 1983 (Vol. 28, #3) P. 510 cover exchange ad seeks Hogg Cachets
Jan. 1985 (Vol. 30, #1) P. 32 Lists Apollo-Soyuz cachet
Jul. 1985 (Vol. 30, #5) P. 648 Article on Learning Never Ends cachet and pictures the cover
Aug. 1985 (Vol. 30, #6) P. 748 Lists Pioneer Space Probe cachet
Dec. 1985 (Vol. 30, #8) P. 1093 Lists Mariner Space Probe cachet
Dec. 1986 (Vol. 31, #8) P. 1081 in First Cachets Update, lists the Official Cachet for the Statue of Liberty stamp for the Fort Myers BPOE 1288 Elks Lodge as a first (Hogg Cachet variety)
Apr. 1987 (Vol. 32, #3) P. 356 UO Column by Bill Sumpter – Mentions Hogg Cachet re: Banking & Commerce stamps of 1975 bearing an Antarctica UO FD cancel
Mar. 1, 2009 (Vol. 54, No. 2) - Article I wrote: "Special Cachets or Cancels in Conjunction with First Days of Sale." P. 53.
SUPPLEMENTARY INFORMATION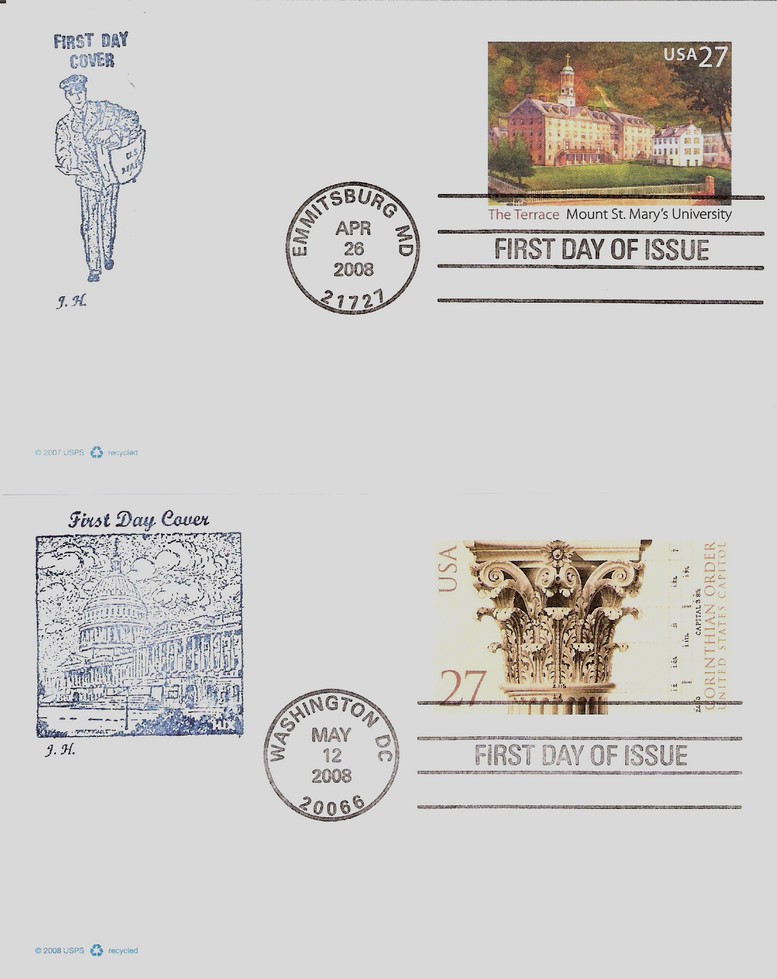 These FDCs show the general purpose rubber stamp cachets I have started using. Note that they are signed "J. H." Look for these to appear for various stamp issues, particularly postal stationery items, in the future.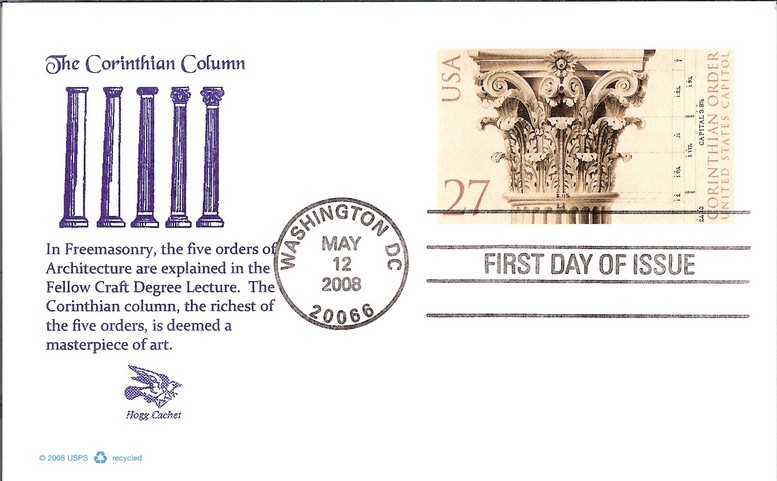 This cachet is a Masonic theme and there were only 30 produced. All 30 are identical to this one pictured above.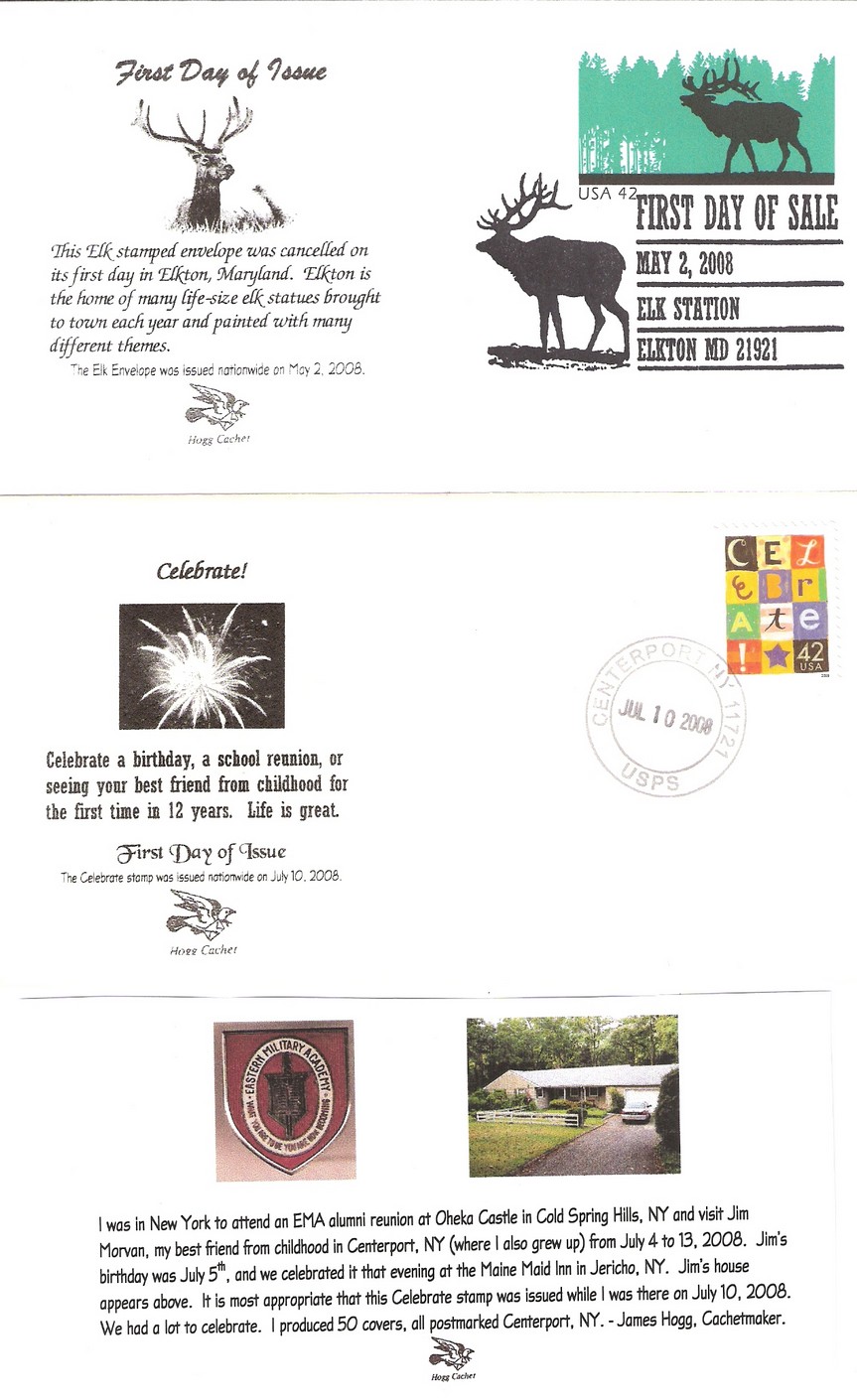 The top cover was serviced by Chris Lazaroff, the President of the AFDCS, who lived in Elkton, Maryland. He persuaded the "city fathers" to have a special ceremony in Elkton for the first day of this stamped envelope. He also arranged for the availability of a specially designed cancel, which appears on this cachet. This cover exists only with the Elkton, MD cancel. Quantity: 53 produced.
The bottom cover was produced in a quantity of 50 only. It was hand cancelled in Centerport, NY 11721, which is where I grew up and where my best friend still lives. See cachet insert, reproduced just below the cachet, for why this is a very special cover. This cover exists only with the Centerport, New York Cancel.
Date of supplementary information: August 4, 2008.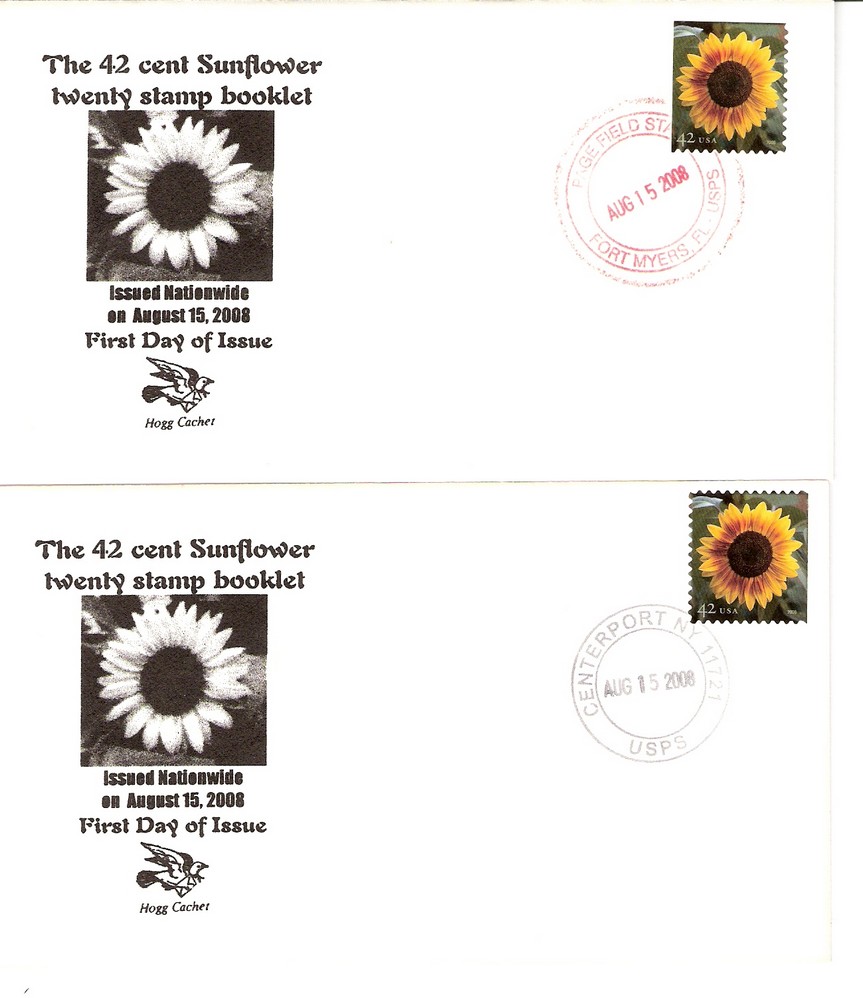 I produced fifty FDCs for the New Sunflower Stamp. There were 20 cancelled at Centerport, NY and 30 cancelled at Page Field Station in Fort Myers, Fla. Reason: Centerport was my hometown where I grew up and Page Field, Fort Myers, Fla. is where I have had my PO Box since 1979, when I moved to the Fort Myers area. Unfortunately, the cancel at Page Field was badly worn and it was tough getting sharp impressions on my covers.
Updated August 26, 2008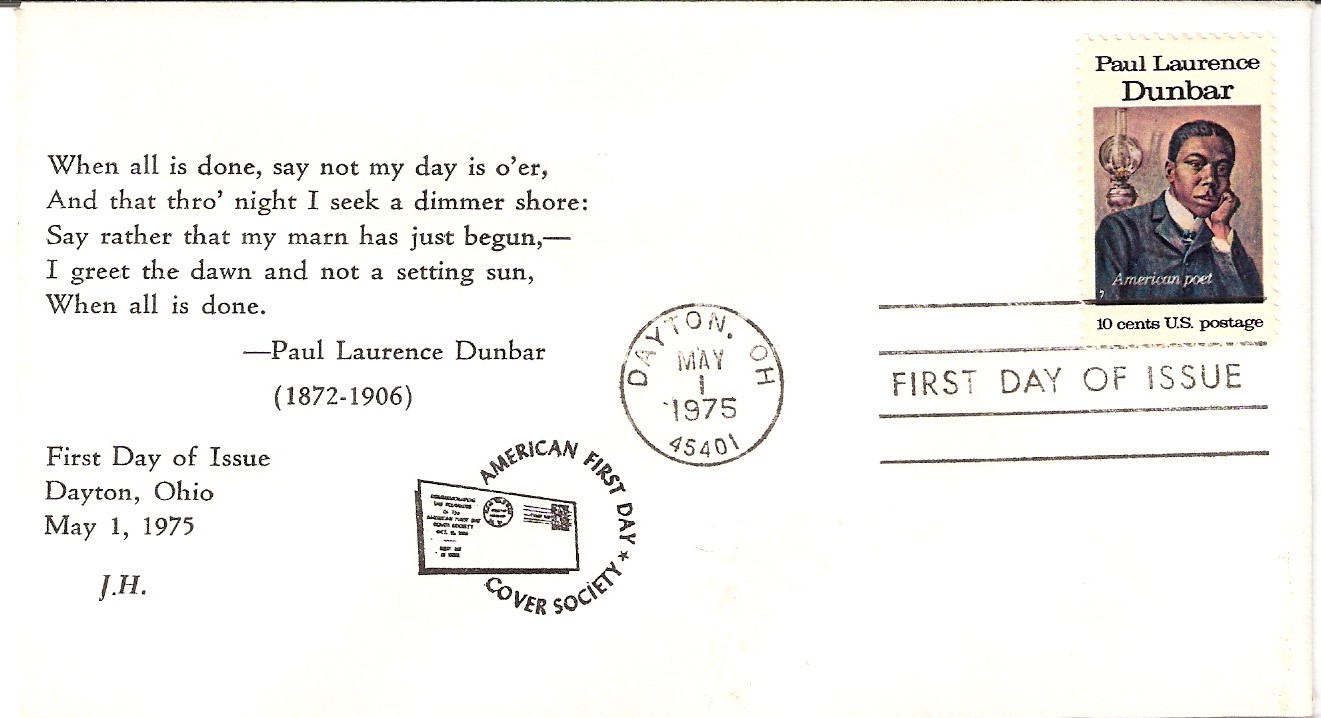 This is an image of the only Hogg Cachet produced bearing the signature "J. H." instead of Hogg. That is, until now - Sep. 26,2008.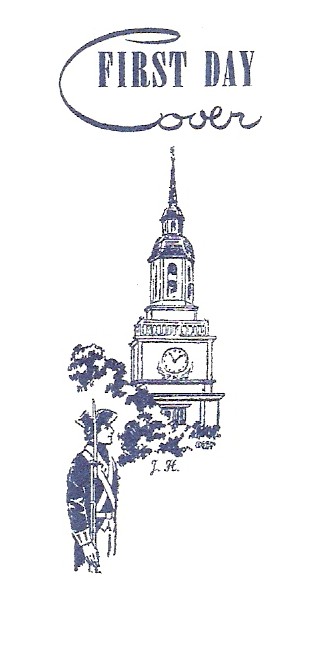 This is a cropped image of the new general purpose Hogg Cachet to be used for first day covers. The initial printing was 100 covers on Artcraft Bond envelopes. It was printed on Sep. 25, 2008 and is signed "J. H."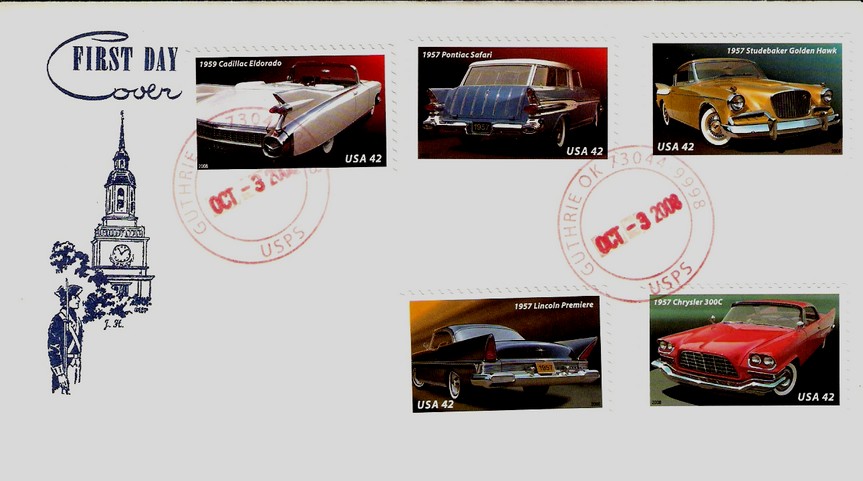 This documents the first use of my all purpose cachet. I produced six of these all cancelled in Guthrie, Oklahoma.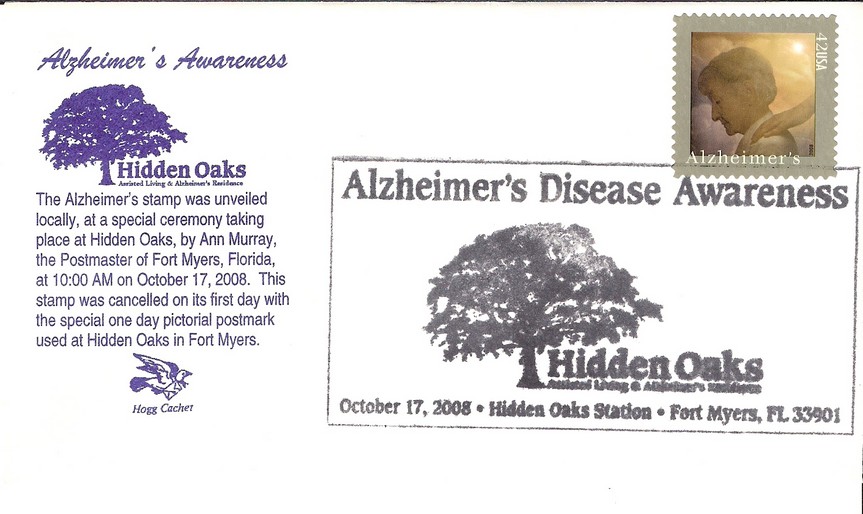 The Alzheimer's Awareness stamp was scheduled to be released nationwide on October 17, 2008, with the official city being Morgantown, West Virginia. Well, as luck might have it, the Hidden Oaks Assisted Living & Alzheimer's Residence, located in Fort Myers, had made special arrangements with the postal service for this stamp issue. They hosted a local unveiling of this stamp at 10:00 AM on October 17th, which was performed by Ann Murray, who is the Postmaster in Fort Myers. The ceremony was very tastefully performed, with a few speakers who spoke about Alzheimer's disease, followed by a brief reception with cake and refreshments. There was also a special postal station set up there to sell the stamps and affix the special commemorative cancel to covers.
Because of the fact that I only found out about this event as a result of an article in the local paper appearing on Tuesday, October 14th, I had to scramble quickly to produce a special cachet for this event in time for the ceremony. A major hazard I encountered at the event was a cancellation device that was really difficult to obtain good impressions from, which was also very large in size (4" wide x 2" tall). After some practice on several sheets of paper, I was able to get reasonably decent impressions from this cancel. Debra J. Mitchell, the Postal Service's Customer Relations Coordinator for Fort Myers / Cape Coral, was the kind lady handling the cancel and stamp sales. She allowed me the opportunity to cancel my own covers, for which I was most grateful. That cacheted FDC pictured here. (Updated October 30, 2008.)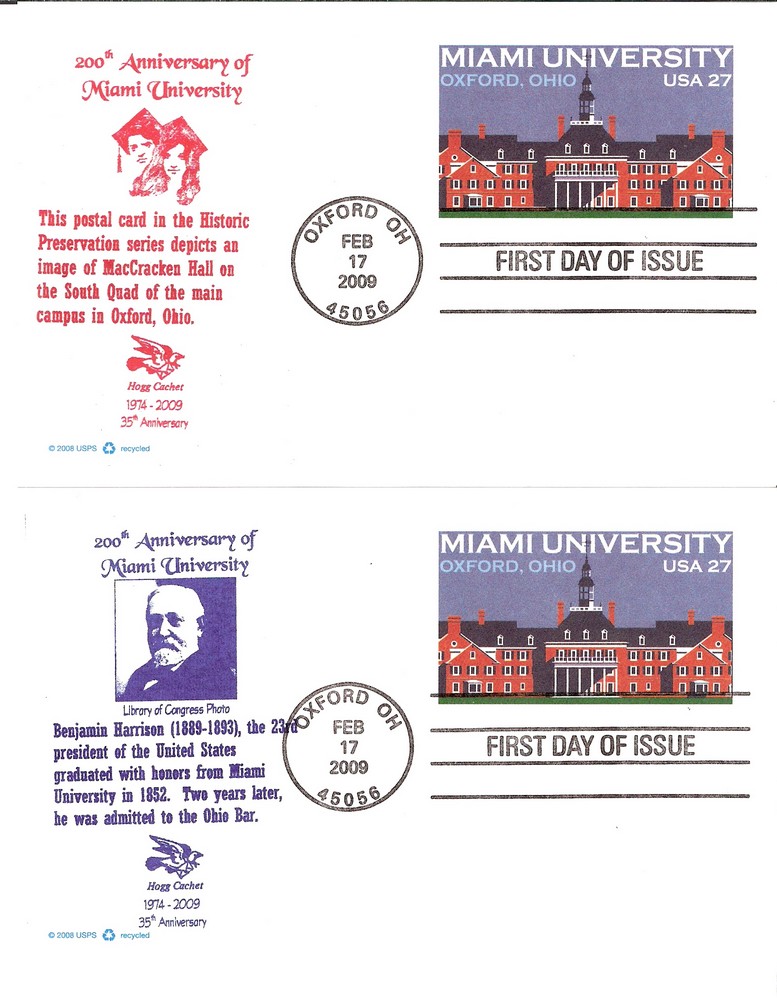 I did 25 of each Miami University Postal Card design. None exist without the FDOI cancel pictured above because they were unavailable anywhere I tried on the first day. I had availability checked in Florida, Texas, New York, and Hawaii, with no one able to buy any.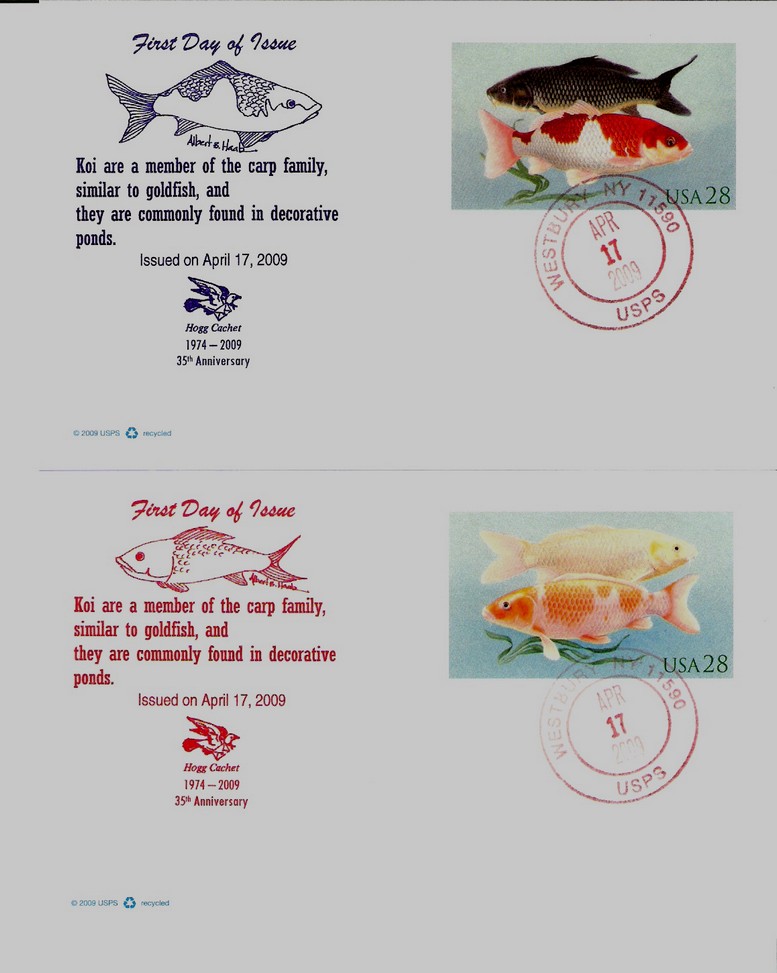 Illustrated above are the two Koi Fish Postal Cards. There were 87 sets of these printed with a Hogg Cachet. They are known with the following cancels on the first day: the Official FDOI hand cancel; Centerport, NY 11721; Northport, NY 11768; Greenlawn, NY 11740; Cold Spring Harbor, NY 11724; Westbury, NY 11590; Jericho, NY 11753-9998; Woodbury, NY 11797; Pearl Harbor, HI Naval Sta MOU No 1; Aiea, Hi 96701; Pearl City, Hi 96782; Waialua, Hi 96791-9998; Haleiwa, Hi 96712; Wahiawa, Hi 96786; and (only one set) Honolulu, Hi Main Office 96820. I serviced the New York cancels and all of the Hawaii cancellations were serviced by Walter Taggart, an avid FDC postal card collector from Hawaii.
Also, the artwork appearing on these cachets needs to be addressed. The Koi fish artwork on these covers was done by Albert B. Haab. If you look closely at the design, you will see his name signed at the bottom. He is a good friend of mine in Fort Myers who I know from the Fort Myers Rod & Gun Club. His vocation is that of a funeral director, however, he is an excellent artist. He drew these designs for me while we were waiting for our table for a Rod & Gun Club function at P. F. Chang's Restaurant in Estero, Florida.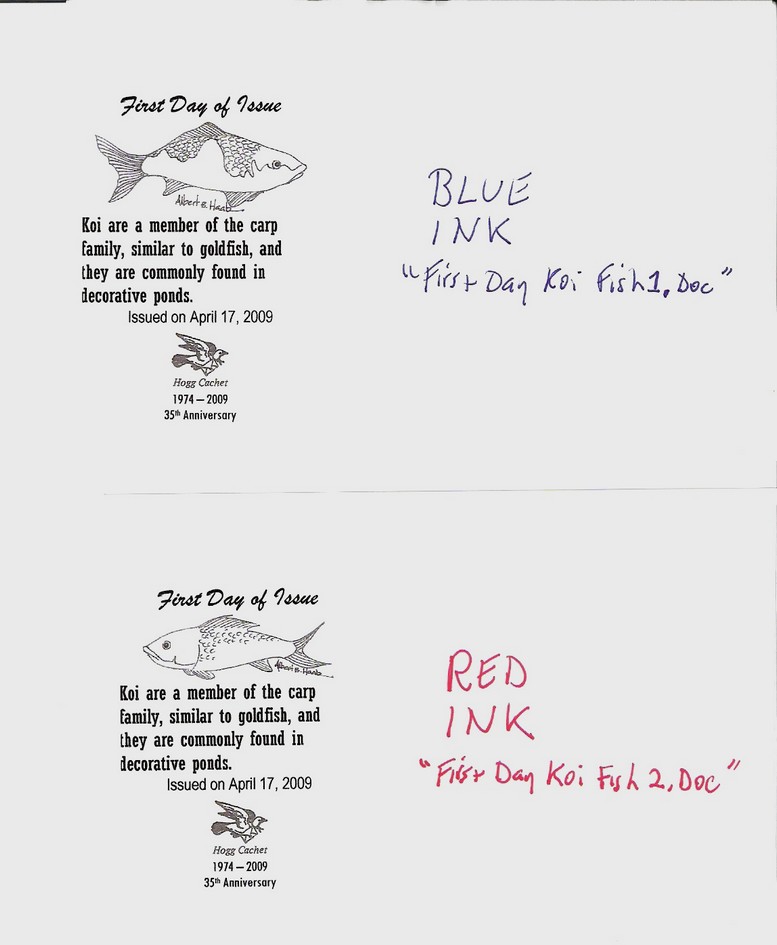 Illustrated above is the way these cachets were supposed to be printed. You will notice that the actual cachet was NOT printed the way it was supposed to be done. When the printer opened up the word document on his printing machine plate maker, he did NOT double check for the proper spacing and format per my instructions. Instead, he printed it the way the computer displayed the cachet design unaltered, causing the cachet wording to be skewed, with the cachet encroaching on and partially obscuring the Official FDOI cancel. Unfortunately, the useful life of printers appears to be approximately one year, after which they get complacent that you will continue using them. Once that happens, they get sloppy and lazy. (Updated May 6, 2009.)
Click here to return to the Hogg Cachets main page